Congratulations, Class of 2020!
In preparation for the Virtual Conferral of Degrees on May 17, families were asked to submit photos and congratulatory notes to share their pride and celebrate their student's success. Check out a small sampling below!
"Celine, Keep believing in yourself. Keep going for those unique dreams and talents that make you who you are, adding the goodness and beauty in your heart to the world. We are so proud of you. We love you, Congrats!"
- Fung Lee
"Valerie, Your future is so bright, you've got to wear shades!"
- Martha
"We're so proud of you, Terriann!"
"Congratulations, Nati!" – Solomon
"Congratulations Anusha!!!! So proud of you."
"CONGRATULATIONS PAUL! ONWARD AND UPWARD!!!!!!!! LOVE, MOM AND DAD"
"From your whole family - CONGRATULATIONS to NORA!!! BAVA!!!"
"Congratulations, Logan, well done, so proud of you! Love, Dad"
"Congrats, Howard! You did so well, I'm really proud of you! Love, Louis"
"Jasper- Macte hac gloria! We are proud of you. Mom & Dad"
"Dear Sanjana/Bulbul, Good looks, brains, heart and now a diploma too? You've really got it all! Congratulations!!!"
- Proud Mom,Dad and big bro
"Congratulations Kristina Marie! We are so proud of you. You are so talented and you have such a bright future ahead of you. Love always, Tricia, Jeff, Kaitlyn & Olivia"
"Radhika, Today we are so proud of you as you reach another important milestone of your life. Your hard work and courage paid off. We believe sky is your limit, so go out and spread your wings and soar high!! CONGRATULATIONS and LOADS OF LOVE"
- Mom, Dad and Nikita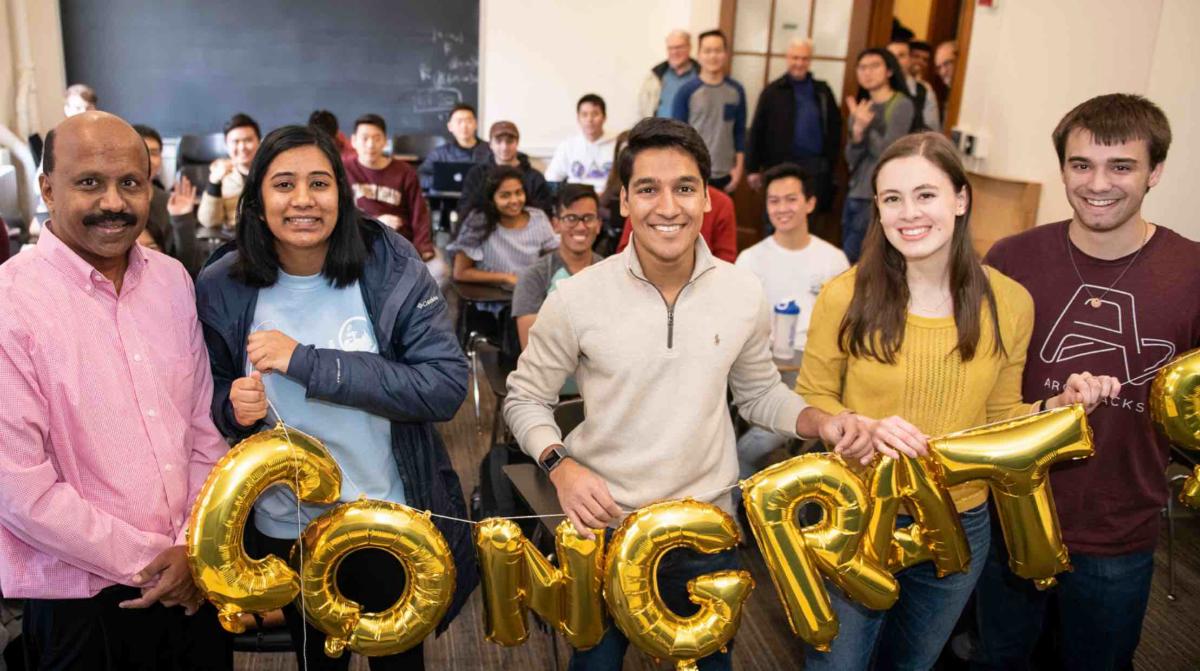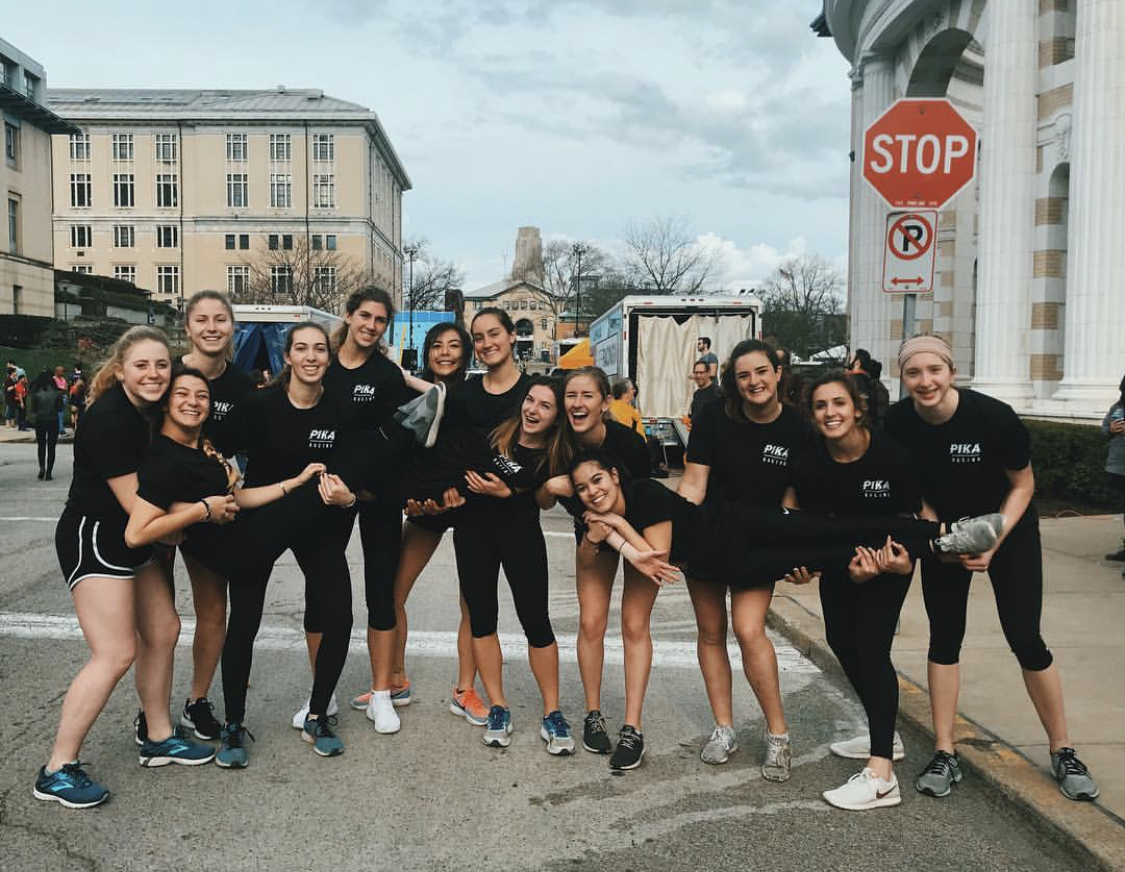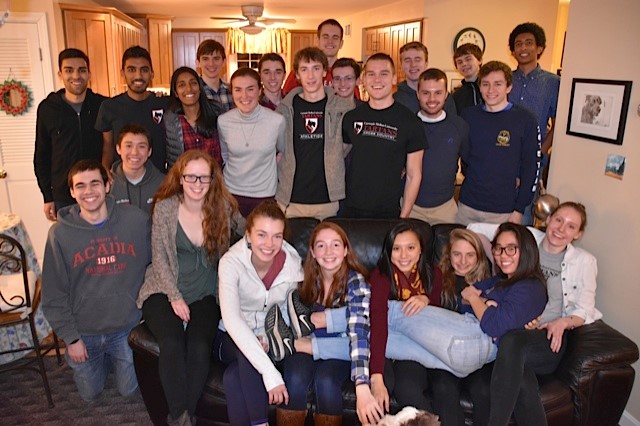 "Congratulations to Cal Lavicka !!!
For doing such a great job...
And for being such a loving, caring and amazing person...
The world is your oyster – whatever that means!
 
With Love and Gratitude,
Mom, Dad, Max, Reese and Bella"
"Georgia, Wow. This day is here. Dreams come true. Believing and hard work...you made it happen. With an abundance of love, admiration and optimism for what our CMU grad does next....We love you, Dad, Mom and Charlie."
"EACH JOURNEY STARTS WITH ONE STEP.

YOU had started that step the day you began to pursue your college degree. Congratulations to you Antonia! You have completed the journey of your pursuit.
I am very proud of you, my grandson - take care of yourself until I see you.
Lots of love,
Grandma"
"Congratulations Carlos. We are so proud of you!"
 - Stephy, Mom and Dad
"Congratulations and we are very proud of your accomplishments Harshi!! With God's blessings May success be with you in all paths of your life! With love, Mom, Dad and Nitin."
"Dear Matthew, We are so very proud of you! You are wonderful in everything that you do. Congratulations on your graduation! We know that the future holds all goods things for you.
Love
Mom and Sylvie"
"Parker, What you believe will determine what you create. Believe Big! You left an incredible CMU legacy! Go be the light you want to see in this world. #RollTarts Love, Mom & Dad"
"Robert and the School of Engineering. We are so proud of your accomplishments! You have worked so hard over the last four years. We know you will have a very bright future ahead of you. Love, Mom and Dad."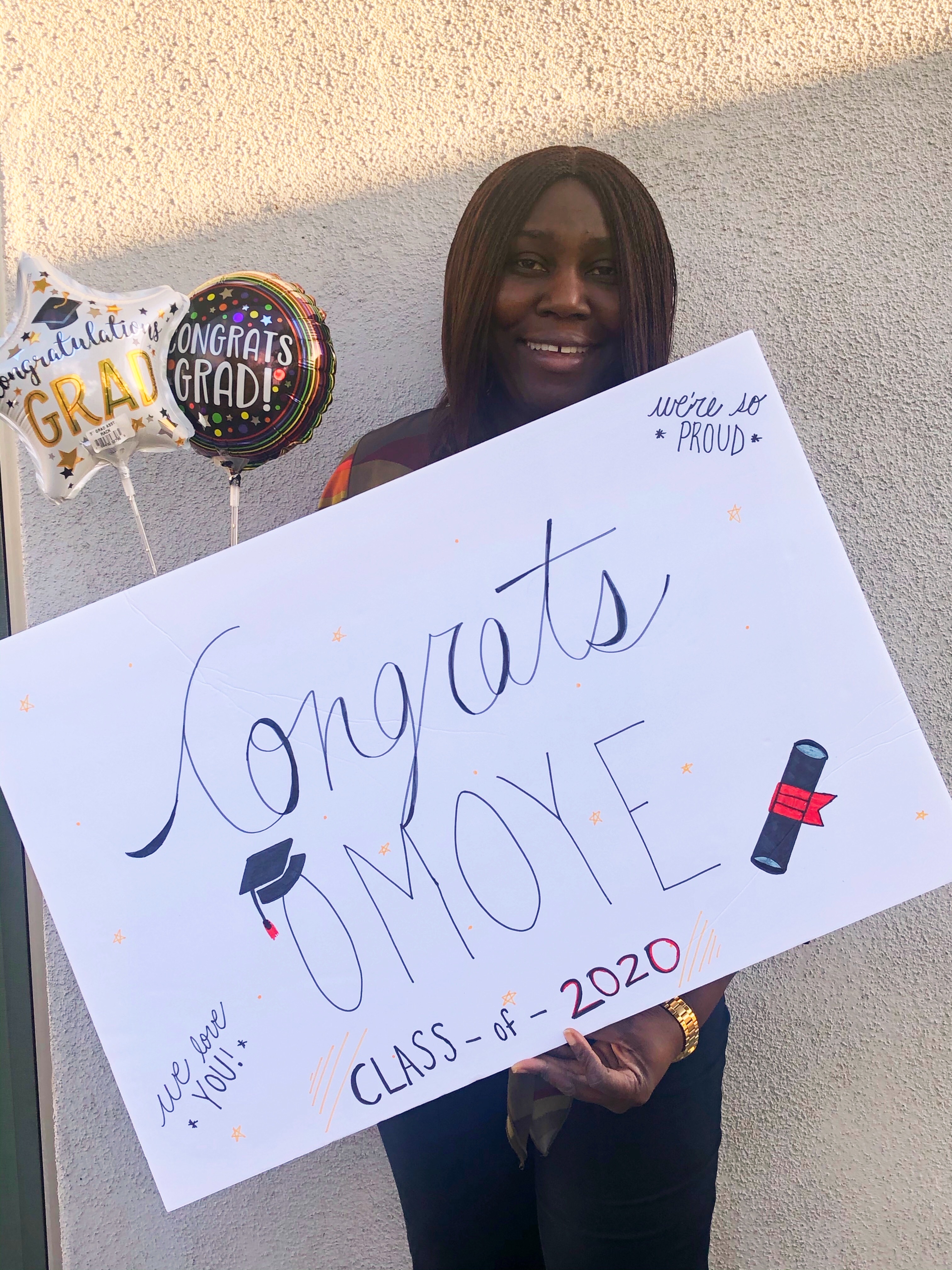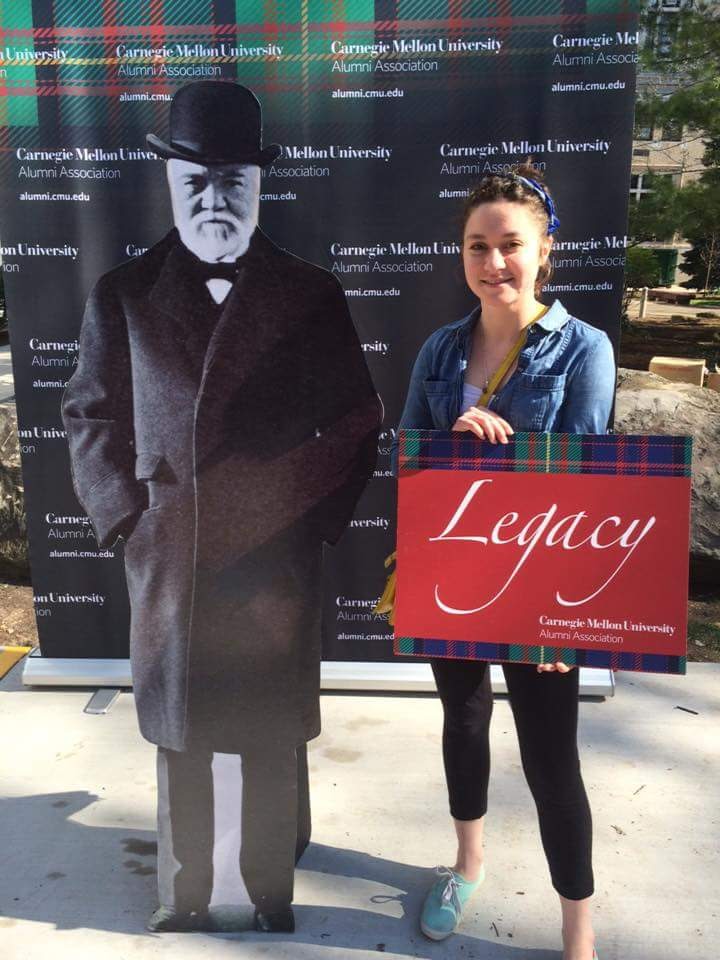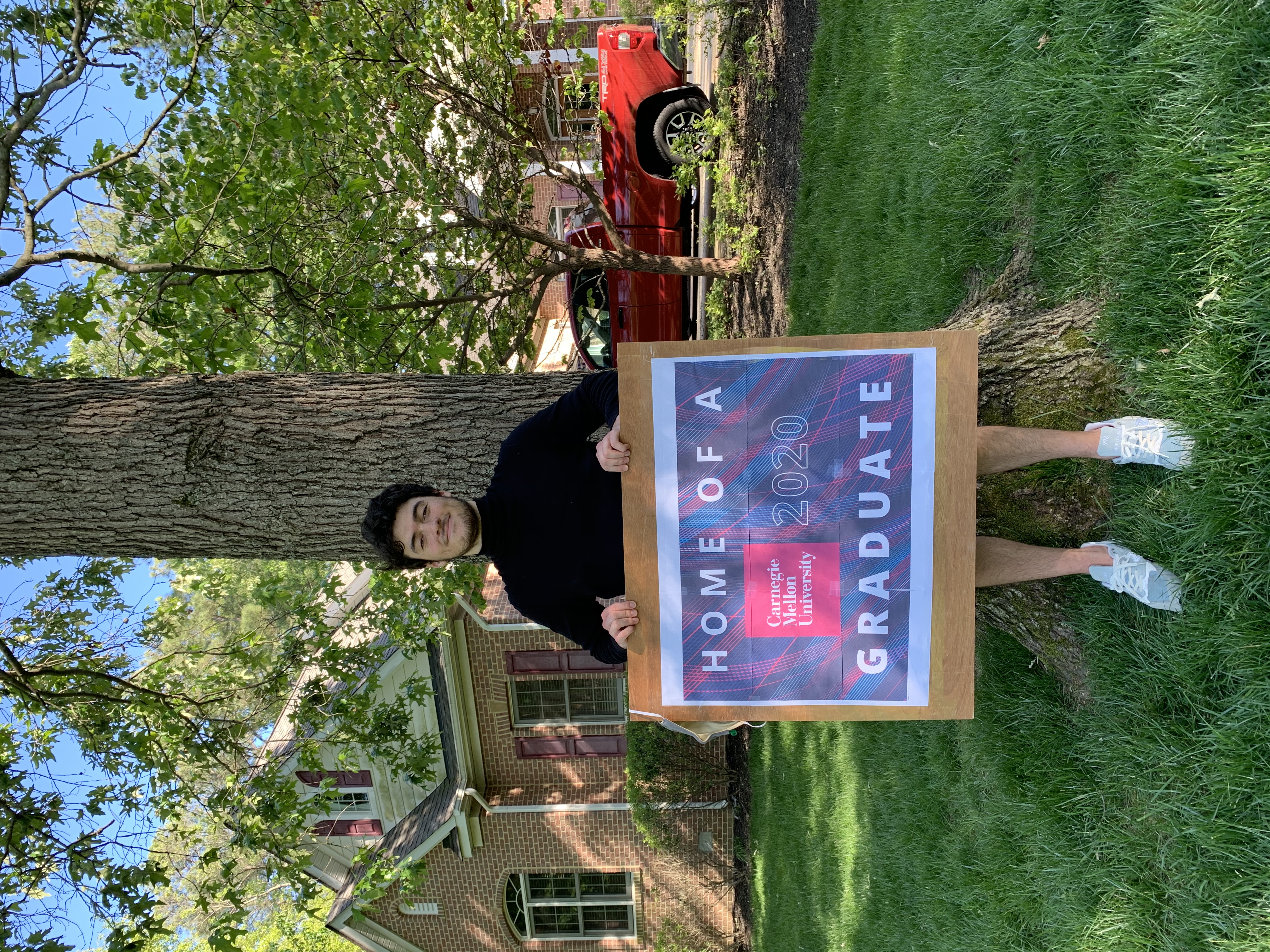 Rachel, We are so proud of your dedication, independence, creativity and empathy. Your brain is pretty impressive too. Just as you are, you are enough. We love you!
- Pod, Mudd, Aidan and Jon
Congratulations, David! So so happy for you and proud of you. For going through these glorious 4 years not relenting in hard work, thermodynamics, calculus!!!!! Wishing you all the best ever as you step out in life. You deserve it!
- Mom
"Cameron, Congratulations from the entire Drayton, Whyte and Kydd families!  We are so exceedingly proud of you!"
 
- Dad
"Cameron, you have always been our brilliant star and now the sky is yours, shine bright!  Congratulations and we love you,  Dad, Mom and Jordan"
"Congrats Valerie! You're super cool and awesome and hardworking! Can't wait to see all the great things you'll do!"
"Congratulation, Linden!  We are so proud of you!  Love - Mom, Dad and Kendal"
"Congratulations Kevin. We are so proud of you!  Love, Mom and Dad"
"Congratulations, Chris! We love you and are proud of you. Best wishes for a happy and successful future. Love, Mom, Dad and Zach"
"Congratulations Vinnie!!  We are so proud of you!! You've worked really hard and you did great!
Take time to enjoy this wonderful accomplishment! 
Love,
Mom and Dad"
"We love you, we're so proud of you, and wish the best for you always!  Congratulations, Eric and Happy Graduation!"
- Mom & Dad
To David -
"This is Daddy wishing you congratulations for putting in so many years of hard work and finally turning out an engineer. That was the easy part - Now comes loving life! Good luck!"

-Baba
"Okie! Mr. Engineer, so proud of you, you've accomplished so much and made it look easy. You are going places, and this is only the beginning. Congratulations!"

- Davina
"Hey, copy cat. I see that you are officially an aerospace engineer. I'm proud that I inspired you. You are one of the smartest, coolest, and funniest people I know. Keep doing great things, it only gets better from here!"
- Yimika
"Dear Mayur, Congratulations on your graduation. Spread your wings and live your life. You can achieve whatever you want in life. All you have to do is believe that you can. We believe in you. Wishing that brighter opportunities come your way and you achieve in all of them.
Love,
Mom, Dad, Tai"
"Dear Mihir, Chase your dreams. Never stop trying. Never stop learning. Live life to the fullest and give nothing but the best. Happy Graduation. Our best wishes for your bright future.
Love,
Mom, Dad, Tai"
"Evan!  Congratulations for graduating from CMU/Tepper; we're so proud of you.
 
In your time at CMU, we hoped that you would develop and grow in many ways; you exceeded our expectations hugely.  Think of everything that you did and experienced – star runner, overcame your respiratory issues, strong GPA, involved in two startups, head TA for Prof. Albertus, saw a lot of the US (especially Penna and Ohio), made so many friends, met a terrific young woman, started your career in a field that you're good at and are excited about.  You were a great big brother to Emmy in her first year at CMU.  No doubt we are leaving out many things…
 
We're bitterly disappointed that you were not able to finish your senior track seasons; we're confident that you would have excelled at indoor nationals, and in the spring.  We know that this was heart-breaking for you, after all of your work and resilience to reach the threshold of great success.  If this is any consolation:  maybe take from your experience a greater empathy for those who are battered by life's challenges and calamities.  That sensibility can be a great gift, as you move forward in your life.
 
We love you so much.
 
Yours always,
Mama and Daddy"
"Dearest Nathan,
 
Alef and I are so privileged to witness this special occasion and we are sincerely proud of your achievements.  Seeing you graduate overwhelms me with joy and pride and brings tears to my eyes.
 
Time flies so quickly but I am beyond grateful for all the wonderful summers and holidays we have spent together building precious memories, and the opportunity I have been given to share words of wisdom with you which have not been in vain.  Your hard work and dedication is truly admirable but your ability to enjoy life while pursuing your dreams is astonishing and a testimony of God's favor in your life. I am so proud of the person you have become and hope our children will look up to you as a role model. 
 
I pray success continues to abide with you forever and find accomplishment everywhere you set your foot.  Above everything, I wish you joy and happiness in everything you do and be fulfilled with God's purpose in your life.
 
Love you dearly,
Aunty Mary"
"Congrats my little Grad Gauri!
Now that you are officially declared the Captain of your Ship, Launch your boat, Sailor!
Steer in whichever direction you want,
Know yourself...
You know the winds,
You know the waters ,
Ride on ...
Explore your world,
Oceans of opportunities are waiting for you, You have much more to be excited for, Everyday is your day, Carry on ...
 
Love you,
Mom- Pa & little Bro"
"Congratulations to the Class of 2020! We are very proud of your incredible achievements.
We are very proud of our son Alberto's incredible achievements and we are sure of his personal and professional success.
Success for the Carnegie Mellon Class of 2020!
#TartanProud"
- Rita & Osvaldo
"Congratulations on your graduation Omoye!!! We are proud of all you have accomplished so far, and are confident you have a bright future ahead of you. Celebrate this moment sweetheart, you deserve it!!!
Love, your family."
"Dear Anita,
Your graduation day is a proud day for you. Congratulations on your well-deserved success. Hope you know how proud we are of your accomplishments and the person you have become. Wishing you all the success and happiness for the future. We Love You!

Your Parents, Grandparents, Aunts and Uncles"
"Dear Haiwen, It was spring 2000 when our flight from Frankfort landed in Chicago. We watched you grew from a 2 year old little girl who spoke only a few words of German and Chinese, to an amazing CMU graduate. It's been a long journey! You did it all beautifully. Congratulations! Love you, Mom and Dad"
"Caleb, As you take the wheel, we are thrilled to see where the road of life takes you! Enjoy this moment and be proud of your accomplishments. Love Mom, Dad, and Lucas"
"It's a beautiful thing to see your dreams come true.  Congratulations Aditi, with all our love.
- Mommy & Papa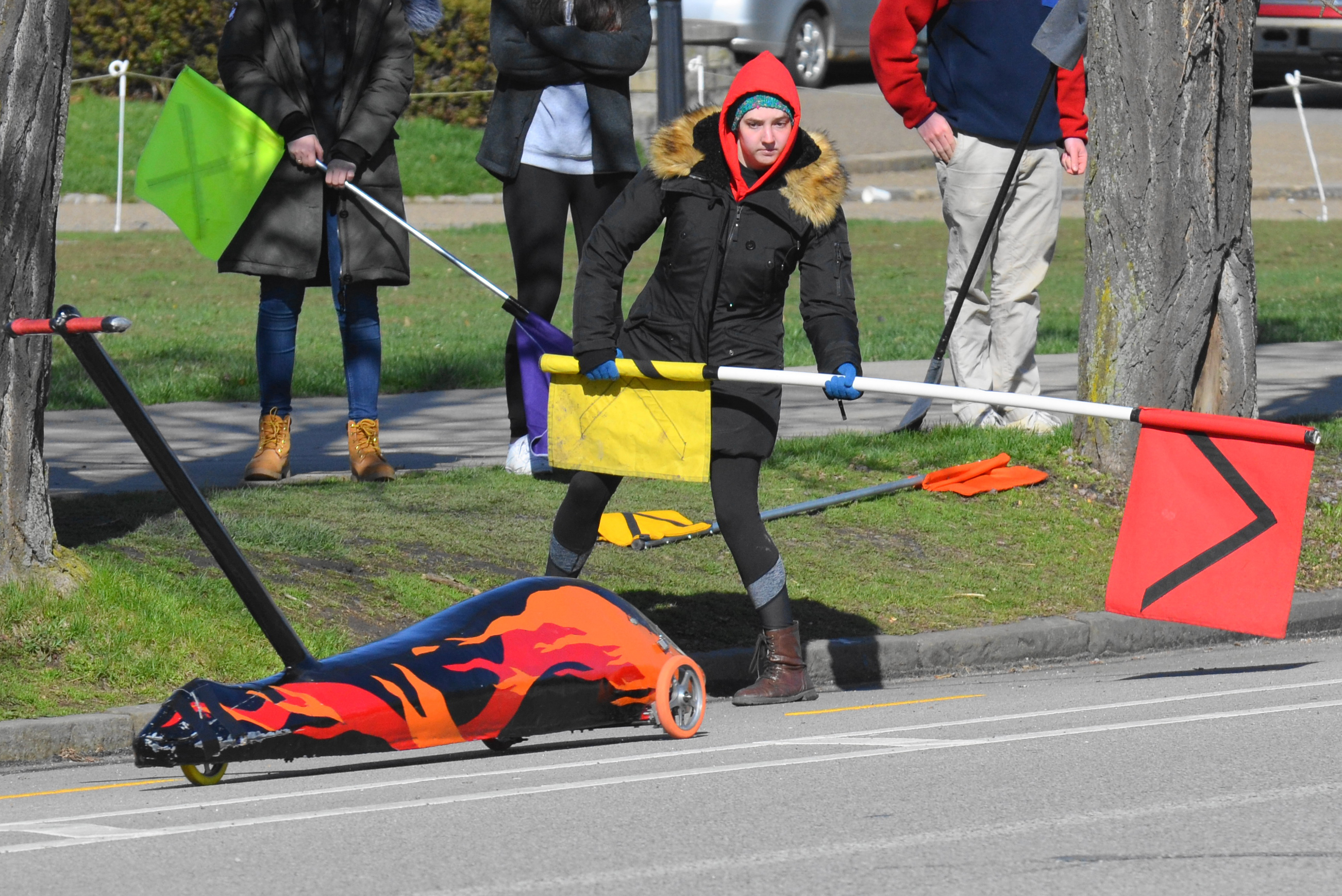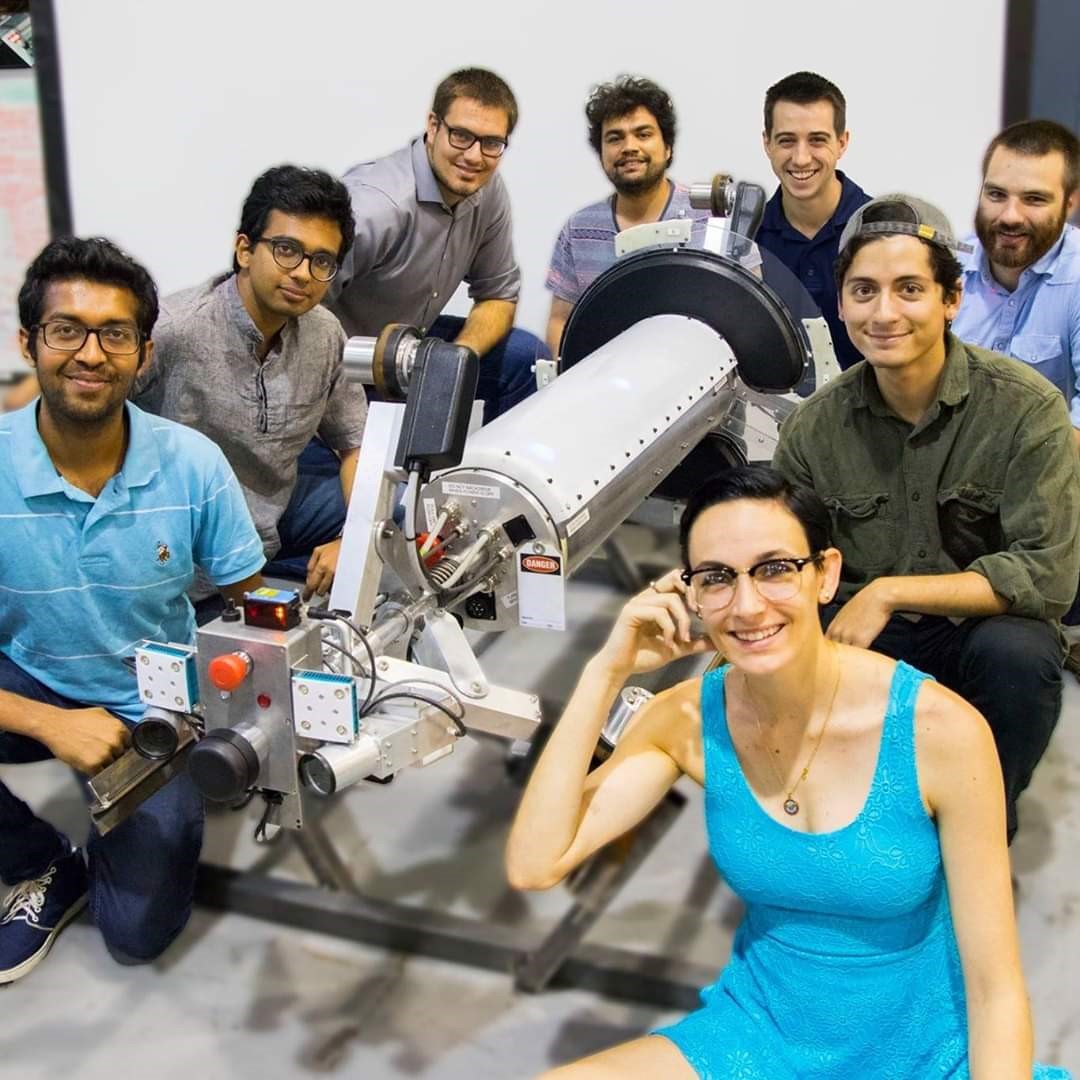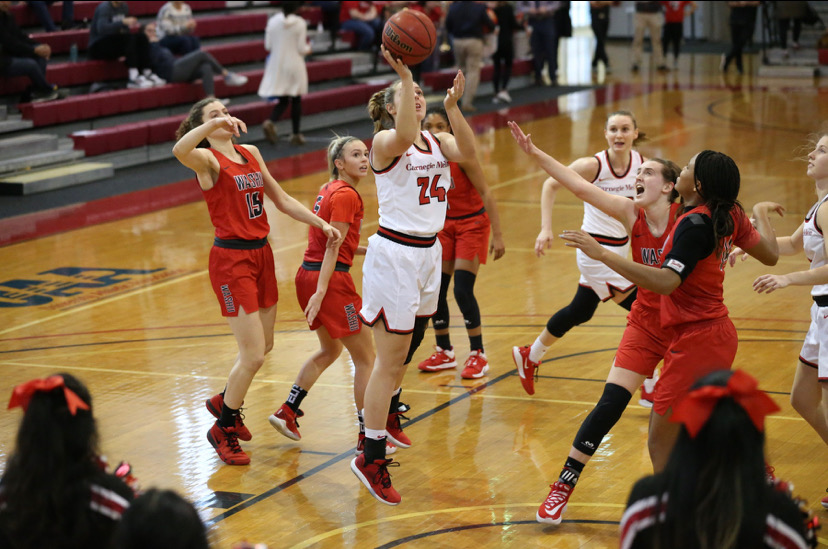 "Congratulations, Lauren! We are extremely proud of your achievements as a CMU student and look forward to more great things as you continue to make your mark on the world.  Love, Mom, Dad & Peyton"
"Dear Nathan, You really make us proud it is truly a joy and honor to share this day with you. Thank you for making proud parents.  Love Martha & Belaye (Your loving parents)"
"Congrats to JD on his degrees in Mechanical Engineering and Robotics! We are so proud of you!"
- Mom, Dad and Laurel
"Best wishes to Julianne Marie on your graduation!   Wish I could be with you.  Love, Chichi"
"Hana, Nothing more rewarding then seeing your child grow up to their potential and to become productive member of society. We are proud of you. Love, mom & dad"
"Congratulations Nicholas on your outstanding achievements at Carnegie Mallon Unviersity! Love, Mom, Dad & Camey"
"Congratulations Jamie and the CMU Class of 2020!  We are very proud of you!  Love, Mom, Dad and Jack"
"Congrats Anusha! Your hard work has paid off.  Can't wait to see how you are going to flourish in your next chapter of life! 
- From Dad, Mom, and Rishi"
"David, We could not be more proud of you and amazed at your accomplishments!
Love always,  Mom and Dad, as well as Amanda, Nell and Daisy!"
"Dear Maitreyee, A very warm and hearty congratulations to you on graduating from Carnegie Mellon University. We all are so proud of you.
From,
Your loving family"
"Congratulations Patrick! we are so very proud you! May All Your  Dreams Come True!
Love, Mom, Dad, Alianna, Matt & Megan"
"Congratulations on your graduation, Tim! Your hard work and dedication are an inspiration to us. We're very proud of you and all that you have accomplished. We wish you all the best.
 Love, Mom, Dad and Andrew"
"Congrats, Bethany Rispoli! Set backs, challenges and a tragic loss did not stop you! You are truly amazing—fearlessly and wonderfully made.
All our love,
Mom and Dad"
"Congratulations!!!  Way to go Peter Brownlee!!  We are so proud of you!!!  

We love you, 
Mom, Dad, Lauren, Drew, and Ari"
To Rineeth -
"Dear Ninnee,
I closed my eyes for but a moment and suddenly a man stood where a boy used to be. I may not be able to carry you now in my arms, but I will always carry you in my heart. You have given me so many reasons to be proud of the man you have become; the proudest moment for me is telling others that you are my son.You are an achiever. You have made us all super proud; keep up the good work.
Congratulations on this huge achievement!! This is just the beginning,you're a star in the making,SHINE ON!! I love you now and forever! 
Love u,
MOM"
"Dear Rinnee, it's such a proud moment to see this day... I remember the day you got admissions into CMU, the excitement, preparations, anticipation to begin the new journey! I recall the time we landed in Pittsburgh for registration, the tearful goodbye when we left you on campus.... time has really flown by! You have made the journey into a confident adult with life long experiences that you will always take along with you!!
Congratulations and may this day be memorable for you !
- Your Father"
Heyyy, I'm super proud of you for everything you've accomplished. You've been an amazing big brother to me, helping me out whenever I needed you. I know that whatever the future holds for you, you'll kill it as you always have. Keep being the same confident and caring person you are.
Once again, I'm really proud of you. 
Love you,
Ju
"Michael, We are all so proud of all you have accomplished at CMU on the football field and, most importantly, in the classroom. You have had a marvelous four years with many blessings of distinguished awards, wonderful memories, and lifelong friendships.  We will also remember fondly these years within the Tartan family and Pittsburgh community.  We know much more is yet to come as you begin your career in NYC.
 Love, Mom, Jenny, and Jason"
"Dear Nathan, Though this isn't what we expected, we're so proud of the hard work and dedication through which you've approached your education from kindergarten to now. We wish you all the best as you begin your next adventure!
Love, Mom, Dad, and Aaron"
" I cannot express how proud I am of my son, Trajan.  From 3 years old, Trajan was mostly an inquisitive and delightful youngster full of adventure and promise.  That desire to learn and explore has never dimmed.  It is of no surprise he is a Mathematics Major at CMU, and his accomplishments in the field continue to amaze me.  He has grown to be an outstanding young man with compassion for others and a desire to make the world better.  It is a joy for me to watch him receive both his Bachelor's and Master's Degrees in Mathematics.  And my joy doesn't end there as Trajan will be attending Princeton University this fall to pursue a PhD in Mathematics as well.  I am overcome with happiness for him and I know he will be an exceptional contributor to our world in extraordinary ways.  Congratulations son!  Your grandmother is looking down on you with a huge smile full of love and I love you with all my heart!
- Mom"
"Congratulations to my Godson Antonio on achieving your goals as a proud Graduate of CMU class of 2020.
I'm so immensely proud of your hard work, focus and dedication over the past four years and your graduation is a testament to this.
As you are aware, circumstances have placed added profound  burdens on your graduating class. However, I'm confident that your CMU experiences will place you and your peers in the best possible position to persevere and exemplify your creativity.  Good luck in all of your future endeavors. 
You make us all Proud!  Well done!
 - Charles Barrett"
"Shanley,
Congratulations on your graduation from CMU!! We are proud of you and all of your accomplishments in Chemical and Biomedical Engineering, including being recognized as for a Senior Leadership Recognition Award. We can't wait to see you take on the world. 
We are so glad that you have been blessed with such great friends at CMU. We congratulate them and look forward to hearing about their future endeavors. You are all walking into a great future. All the best.
Love,
Joseph and Renee"
Congratulations to Michael! 
Three years ago, you arrived in Pittsburgh with unbridled anticipation of what could be.  Today, we celebrate the culmination of your determination, dedication, and focus as you graduate with a record of excellence.  We are filled with pride knowing that the path that you chose was not easy.  You always challenged yourself in vastly different disciplines, and as a result, you are resilient, and will be able to thrive in any environment.  Your passion for learning and contributing will continue to reward you with unlimited opportunities.  We are excited to see where your journey will lead.
With love and admiration,
Mom, Dad, and Adrienne
"Congratulations, Adrian and SCS Class of 2020! 'Stay hungry. Stay foolish.' - Steve Jobs"
- Kim
"Congratulations Marcus and the SCS Class of 2020!  So proud of this generation – activists, artists, innovators, and scholars. Counting on you to save us all from the apocalypse and wishing you many magical adventures and every success whatever the future holds! "
- The Alders