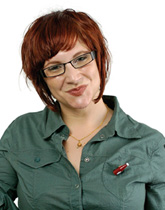 She had been nominated for one of the country's most prestigious scholarships, the Fulbright. But she had no real idea of the status. Every now and then, she'd receive an update in the mail to let her know she'd passed one round or another. Still, she felt like once she had submitted her application packet, her future was left to the winds.
When the call finally came, it wasn't quite what she had expected. Because of security concerns, Fulbright had closed the Indonesia program, where she had applied to spend a year studying what she calls "disaster" rhetoric in the wake of the 2004 killer tsunami. But the caller—Jonathon Akeley, head of Asian affairs at the Institute of International Education—said the committee really liked her English teaching assistantship application. Would she consider a program being set up in Hong Kong? She could teach a class in American media at the University of Hong Kong and also work with public radio there. Take a few minutes to think it over, he said, and call back.
She said she would, then hung up the phone.
By the time Carnegie Mellon humanities and social sciences graduate student Sarah Rubin called home to discuss it with her parents, she was squealing with delight. Why not? More Fulbright alumni have won Nobel prizes, 36, than those of any other academic program. The diverse alumni group includes Ruth Simmons, president of Brown University; Joseph Heller, acclaimed novelist; and Richard Debs, founding member of Morgan Stanley International. The program, which is primarily funded by the U.S. Department of State, looks for students with leadership potential to study, conduct research, or teach overseas. And the grants enable the recipients to observe the politics, economics, educational systems, and cultures of other countries.
It's not the kind of offer that people typically turn down. And Rubin, after talking it over with her parents, didn't. In fact, her parents were relieved. They were concerned about her safety in Indonesia. Rubin could empathize. "I have a tendency to go off to sort of volatile places in the world," she says. "Never on purpose. In retrospect, I look back, and I went to places where there's recently been a war or disaster. The reason you go there is because you see people in trouble and you want to help, not realizing that the context around there is not going to be completely rosy." The revised destination of Hong Kong harbored no such worries. "It's safe, very safe," assures Rubin.
So it was official. She would be a Fulbright scholar. She quickly made a contact at Radio Television Hong Kong, the territory's public broadcasting organization, and began thinking about what to include in her class on American media. For sure, her interest in public radio—especially the role it plays in the formation of democracy—will be represented. "Whatever my love is doesn't necessarily need to be somebody else's passion," she says, "but I think it gives me the energy and puts a brilliant light around whatever the subject is, and students can access it in whatever way excites them. The greatest thing as a teacher is to be able to connect to a student in that way."
Rubin leads a banner year in terms of elite scholarships for Carnegie Mellon University students—all four of the undergraduate nominees for the 2007 Barry M. Goldwater scholarships were selected (see News Flash). The Goldwater scholarships recognize exceptional students who wish to pursue careers in mathematics, science, or engineering.
As for Rubin, it's easy for her to trace the path that led her to a Master of Arts degree in rhetoric and, ultimately, the Fulbright. It began when she was a University of Michigan sophomore on a monthlong study-abroad trip in Israel to learn about that country's history and politics. She had traveled before, but only as a tourist. In Israel, she started her sojourn by spending a week on a kibbutz, an Israeli collective community. She stayed with an older couple, working on the farm with them, cooking, washing dishes. "It cut down on the romance of it and allowed me to see day-to-day life in a kibbutz, which is a really beautiful living structure," she says.
Before she rejoined the group she was traveling with, she invited her hosts to visit her in the United States. But she didn't think they would want to spend their time at her family's home in Michigan. Maybe they would want to go to California because of Hollywood and the ocean. Or visit New York City because of Broadway and the skyscrapers. Or maybe they would want to see the Rockies.
Their choice startled her. These are all good suggestions, they told her. But we go to visit people, not places. Geography doesn't really matter to us, or the attractions.
"That kind of hit me hard," Rubin says. "It was a profound statement. I was 18 or 19, and I had never really considered that or been asked to think about traveling in that way. So that sort of set the spin on my trip to Israel as one of inquiry. It opened up a curiosity about the people. I wanted to see how they lived, especially against the backdrop of the Israeli-Palestinian conflict."
Rubin continued her travels throughout Israel, but the journey was more about visiting people than seeing the ancient lands. In the borderlands, she talked to both the Israelis and Palestinians she encountered. "I was devastated," she wrote later, "but intrigued to learn how the shifting power relationship made them constantly negotiate their identities, from civilian to victim to soldier to mother, all in the course of a day." Although she didn't realize it at the time, what she was doing was interviewing and gathering information—the first stirrings of what would take shape as her interest in rhetoric, which studies how language is used. "I couldn't place what it was exactly that I was doing, because I had no schema for that," she says. "I also didn't feel valid as someone who could ask questions and then use the information. What right or authority did I have to be in that position?"
By the time she went to Seville, Spain, two years later to study studio art and Spanish architecture for a semester, she had her answer. In Spain, family homes were the housing arrangements for students in Rubin's study-abroad program. Rubin was placed with Angeles, an older Spanish woman who didn't speak English. Rubin learned Spanish quickly "out of fear for what Angeles would do if I didn't," she laughs.
Rubin's host had her own ideas on how to look out for her guest: "She decided my pants were too long and she would hem them. I would go home and they would be much, much shorter. She'd say, 'I hem them for you. That way they won't drag on the ground.' But I liked them long."
Angeles also put medicinal cures in her guest's tea unannounced. When Rubin noticed the funny taste, Angeles confessed that she heard her sniffling, so she put a chicken foot in the tea. "Gaaa!" says Rubin. "I was a vegetarian, but Angeles wasn't having it."
Angeles also took her boarder to the park, where they would talk and Angeles would try to teach her to knit. "I never got good at it," says Rubin. "She made something like seven sweaters, two blankets, and three scarves during that time. I made a half-functional scarf."
Rubin put her Spanish to the test during spring break, when she traveled north to Galicia, where an oil tanker had sunk off the coast the previous November, causing a disastrous oil spill. Her intention was to volunteer for the massive cleanup efforts that were still ongoing. "Again, I found myself more interested in talking to the people—volunteers from all over the world, locals who had been affected, fishermen who had nothing to do—than finding out what exact decimation had happened to their habitat," she says. "And I began writing some of that down."
She drew on confidence she had developed as host of a live interview show featuring professional and amateur writers at the University of Michigan's student radio station. "I learned that people like to talk about themselves and that everybody has a story to tell," she says. "I was really timid at first because I felt like I was prying. But the more I asked, the more people would answer, and it became apparent very quickly that people wanted to talk."
The notes she took at Galicia became the basis for her undergraduate thesis, Moving toward the Sun, which was Best Honors Thesis in creative writing and poetry at the University of Michigan in 2004.
After graduating, she enrolled in a graduate writing program in poetry in Washington, D.C. She says she was excited to have the chance to get to know life in another city and to have a few years to devote exclusively to writing. "I thought, 'I'm young. It'll never happen again. Yada yada yada.'"
Yet, increasingly, she was feeling disconnected to the world. "Especially living in D.C., where so much was happening. It's not like I was in a bubble college town. I was in the nation's capital doing a writing program, and I think that split position made clear to me that I was on the wrong side for who I was and all I needed to do."
After about a month, she left school and took a job walking dogs in the Tenleytown neighborhood in D.C., a move that seemed to run counter to her strong compulsion to be more in the world.
"It was very cathartic," she says. "That was really what I needed. It was time to reflect on what trajectory I wanted, and it was sort of the ideal occupation. I walked a dog at a time, which was nice, not eight dogs at a time. I walked all day, two dogs an hour. I would walk dogs, and I would plan for what my next step would be."
She began thinking about changing her studies. "Rhetoric is such a great mix of literature and all the things I love about language and how people use it, and sociology," she says. "It's a great way to use my tools with literature to connect people and to help people. It's a marvelous field, I think."
During her introspection, her roommate, a native of New Orleans, La., invited her to join him on a trip to that city in the aftermath of Hurricane Katrina. "I went to pick up debris and make sure people ate. Interviewing was not my top priority, especially because it was such a bureaucratic mess there. I really didn't think it would accomplish anything."
It was more than two months after the floods. She remembers her first glimpse of the destruction in the 9th Ward—distinct water lines on the houses, children's toys where they shouldn't be. What haunted her the most were the orange spray-painted figures on each house—an X circumscribed by a circle. In one quadrant was the date FEMA entered the house, the number of people they found alive, the number of people they found dead, and the number of pets. "Being Jewish, it reminded me of Passover with the lamb's blood on the doorpost," she says. "It was right next to the entrance. It looked like a blight that was supernatural."
The devastation of Katrina was Rubin's wake-up call. She applied to graduate rhetoric programs at several universities, choosing Carnegie Mellon's program because of its reputation and its intimacy—only three PhD and seven master's students are admitted each year. She made the most of her time in Pittsburgh, getting involved in everything from playing soccer to hosting a radio interview program.
Last spring, as she completed her master's degree, she drew on her time in New Orleans for an analysis of the effectiveness of Mayor Ray Nagin's speeches. It seemed only natural. "It's become my 'other' city," she says. "At the same time, Pittsburgh is now my city and Ann Arbor is my city and D.C. is my city, and Hong Kong may be my city as well."
The Fulbright scholar left for Hong Kong last month.
Sally Ann Flecker is an award-winning writer whose work appears in university magazines and other publications.