Jeffrey Mich surveys the Morewood parking lot on the Carnegie Mellon campus. It's an overcast morning, yet hundreds of people have gathered. Music blasts from the truck of a local radio station. It's a festive atmosphere, almost like Carnival, except that lots of people are stretching. For good reason. They're about to race—running a one-mile loop along Forbes Avenue, eating six glazed donuts as fast as they can, and then repeating the loop (preferably without throwing up).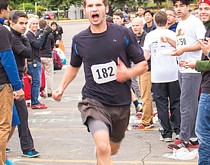 Conceived in 2009 by Sigma Alpha Epsilon (SAE), the annual Donut Dash has typically been a student-centered fundraising event. This school year, though, the race organizers reached out to the community, says Mich, a senior psychology major, who is the event manager. That explains why families can be seen pushing strollers along the race route; and youngsters, college students, and retirees are sprinkled throughout the starting line, some in creative garb, such as a full firefighter uniform. One of the runners is Joey Pickens (S'18), who is a member of the Tartan track team. He's there with several teammates. He gets off to a good start and is in third place when he reaches the donut pit stop. The health-conscious athlete surprises himself by how quickly he polishes off six glazed Dunkin' Donuts.
In just a few ticks more than 12 minutes, the crowd cheers as Pickens crosses the finish line, first in the Men's Competitive Division (with a burp or two.) By race's end, participants have devoured 6,800 donuts, which leads to a phone call to the fraternity from the CEO of Dunkin' Donuts, who commends them on the sizable order.
More impressive, the Donut Dash raised $100,510 for Live Like Lou, an organization that provides research funding and support for people with amyotrophic lateral sclerosis (ALS), also known as Lou Gehrig's disease. The final tally is the most money ever raised by a single CMU organization.
Mich couldn't be more delighted. He and his fraternity brothers wanted to honor Bob Dax, the house's alumni advisor, who was recently diagnosed with ALS. On the heels of the Donut Dash, SAE has pledged to raise $500,000 over the next five years for the newly created Live Like Lou Center for ALS Research, which is located just a few miles from campus.
As for this year's winner, Pickens reports that he hasn't eaten another donut since the race.
—Julie Albright (DC'92