Barry Rabkin's world has been turned upside down. Headfirst, he's spinning like a top. James Brown howls over the speakers, commanding him to get down with his bad self; he obliges, owning the crowd. Their upside-down faces whirl by as Rabkin transitions his 360-headspin into a "baby freeze," then returns to orbit launching into a blurred backspin. He's frozen in time, legs splayed to the heavens like an upside-down flamingo with massive sideburns.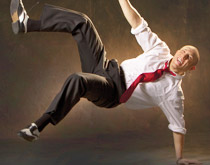 Outside the funk-fueled pandemonium of the gymnasium, the cows of rural Wisconsin sleepily graze. Meet the Midwest's most unlikely breakdancing ambassador. His "crew," frozen behind him in various states of inversion and contortion, is a patchwork ensemble. Rabkin recruited them when he started his own b-boy 101 class as an undergraduate at Beloit College, a fling that turned into a calling. Five awkward recruits became 10, then 30. After months of training in a tiny dance studio, Rabkin has taken his crew to their first battle. Unfortunately, they look a bit out of place.
"Do-it-yourself b-boy gear isn't pretty," he laughs. "You might cut holes in tube socks for spin gloves and use winter snowcaps as headspin beanies. It has a hacked together, Mad Max steampunk aesthetic. Not too fierce or stylish in a battle."
As the circle, or "cypher," surrounding the battle erupts with applause, Rabkin unfreezes his body, gets off his head, and returns feet first to earth with an explosive "Kip-up." His head still spinning, he looks around the gym and sees more than his cheering ragtag b-boy compatriots. He sees potential customers for everything b-boying-T-shirts, spin gloves, DVDs showing off the skills of b-boys (and b-girls) across the globe. And, in the interest of b-boy bald spot prevention, a protective headspin beanie.
"B-boy bald spots are a common problem," he says. "Dancers' beanies are always flying off, and they don't offer much protection anyway." What if there was a laced-up, "Rambo-looking" bandanna with a ton of padding? He leaves the gym thinking he knows the answer to his question.
It has been eight years since he first had the vision to develop and market battle-ready breakdancing gear and videos. His online retail company, CypherStyles.com, now sells more than $200,000 in merchandise annually. Just as satisfying to Rabkin as the cash flow is knowing that he's taking street dance far beyond cow-strewn Beloit. The company has shipped gear worldwide to destinations such as Afghanistan, India, South Korea, and Vietnam.
Despite his success, the ambassador of breakdancing isn't one to sit on his hands (he prefers standing on his head), which is why he enrolled in the Tepper Business School's Management of Innovation and Product Development MBA track. With his lamb-chop sideburns, baggy jeans, and "B-Boy 4 Life" T-shirt, he's not exactly the B-school archetype. Then again, bringing new ideas to market is his "core competency."
"Andy Warhol said it best," Rabkin says, calling to mind another trendsetting Carnegie Mellon alumnus. "Being good in business is the most fascinating kind of art."