Groundhog Debut
Robot Successfully Maps Portion of Abandoned Mine
Groundhog, a 1,600-pound mine-mapping robot created this semester by graduate students in Carnegie Mellon's Mobile Robot Development class, made a successful trial run into an abandoned coal mine near Burgettstown, Pa., on Sunday, Oct. 27. The four-wheeled, ATV-sized robot used laser rangefinders to create an accurate map of about 100 feet of the mine, which had been filled with water since the 1920s.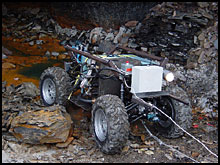 Water was partially pumped out of the former Florence Mine near Burgettstown High School by miners allowing Groundhog to travel into the tunnel. The robot was sent back into the mine Oct. 29 to send a live video feed demonstrating the technology to a technical meeting of the Mine Safety and Health Administration in Charleston, W.Va.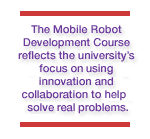 Abandoned coal mines and the need for accurate maps gained international attention last August as a result of the Quecreek Mine accident in Somerset County, Pa. Nine miners were trapped for several days when the Quecreek Mine flooded with water from the adjacent Saxman Mine, which was accidentally breached. Inaccurate maps of the mines were blamed for the accident.
According to the Mine Safety and Health Administration, underground coal mines have been averaging an inundation every two weeks. Since 1983, there have been three fatalities due to floods and since 1995 nearly 44 percent of the floods have resulted from mining into old workings.
William "Red" Whittaker, the Fredkin Research Professor in the Robotics Institute, and Systems Scientist Scott Thayer, the instructors for the course, said Goundhog had to maneuver through a thick orange mud in the mine during its one-hour excursion.
"Mine subsidence is a big issue in Pennsylvania and nationally," Whittaker said. "We believe this kind of prototype robot has enormous potential in helping many organizations understand what's beneath the ground we stand on. We've been successfully creating technologies for exploring hazardous environments for years now. Accidents like Quecreek are compelling motivation for a safe, robotic solution to mapping mines.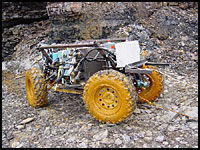 "The robot could help us find out about problems and develop an approach to its solution. This is a national priority," Whittaker said.
To fulfill its missions, the robot needs perception technology to build maps from sensor data and it must be able to operate autonomously to make decisions about where to go, how to get there, and more important, how to return. Locomotion technology is vital because of the unevenness of floors in abandoned mines. The robot also must contain computer interfaces enabling people to view the results of its explorations and use the maps it develops.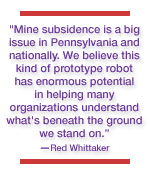 The robot incorporates a key technology developed at Carnegie Mellon called Simultaneous Localization and Mapping (SLAM). It enables robots to create maps in real time as they explore an area for the first time. The technology, developed by Associate Professor Sebastian Thrun of the Center for Automated Learning and Discovery, can be applied both indoors and out.
Whittaker has been teaching Carnegie Mellon's graduate course in mobile robot development since the mid 1980s. The class has served as a platform for developing robots that have explored the interior of volcanoes and searched for and discovered meteorites in Antarctica. Whittaker himself developed three robots that assisted in the exploration and cleanup of the nuclear disaster at Three Mile Island.
The class is also developing another robot called Ferret that can be lowered into water-filled mines through boreholes.


Relative Links:

Mobile Robot Development
Simultaneous Localization and Mapping
Deep Mine 3D Mapping
Robotics Institute
Mine Safety and Health Administration


Anne Watzman
(10/31/02)