Enabling Desktop Notifications in Edge
When using the Google web client to access email and calendar, you have the option to enable "Desktop Notifications". The first time you use either of these services you will be prompted to enable these notifications. If you have previously chosen not to enable notifications, the following procedure will show you how to enable them.
Google Calendar
 The first time you use Google Calendar on Edge you will see this notification: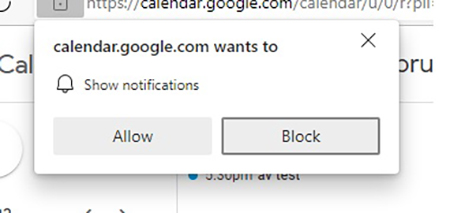 Simply click "Allow" to enable notifications. If you chose "Block" and later decide to turn on notifications follow these steps. 
Open Google Calendar in Microsoft Edge. Then go to to settings by clicking the gear icon in the upper right, and then click "Settings". On the settings menu click "Notification Settings" in the left hand navigation. If you blocked notifications you will see the warning, "Your browser blocks notifications"



To enable notifications, go to the Microsoft Edge settings by click the 3 horizontal dots (...) menu in the upper right of the browser window, click "Settings" then choose "Cookies and Site Permissions" and finally "All Sites"



Scroll through the side and find google.com and expand it using the arrow on the right (>). There is only one site in this list, but you may have many. Find and click https://calendar.google.com.



Scroll down to notifications and change the drop down from "Block" to "Allow" and the close the settings tab



Return to your Google Calendar tab and refresh the page. The warning "Your browser blocks notifications" will disappear indicating that the issue is resolved.Make and other changes to the notifications options you want and then click the left arrow to the left of the word "Settings" to return to your calendar view. 



You will now receive desktop notifications