Teaching Innovation Award
Introduced in 2016, the Teaching Innovation Awards are Carnegie Mellon's newest faculty recognition.  The awards honor teaching practices or strategies designed to improve student learning in online, blended or face-to-face courses. Individual faculty members and/or teams of colleagues may be recognized.
2020 Individual Awardees: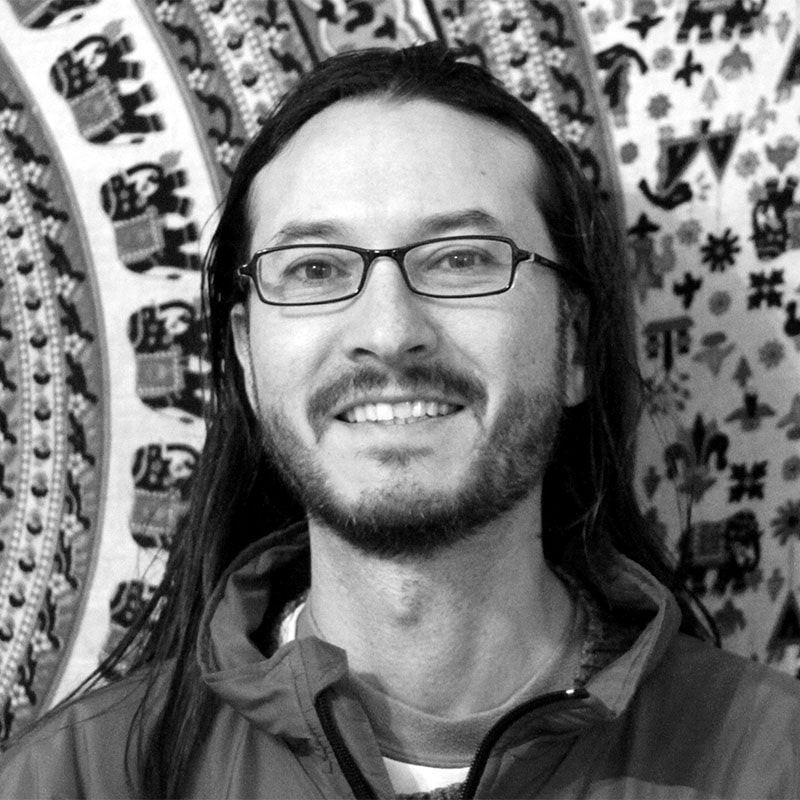 Felipe Gómez
Teaching Professor, Department of Modern Languages
Felipe Gómez holds a Ph.D. in Spanish Language and Literatures (U. of Michigan, Ann Arbor, U.S.A.) and is a Teaching Professor of Hispanic Studies (HS) in the Modern Languages Department at Carnegie Mellon University, Pittsburgh. Dr. Gómez's area of expertise is 20th-21st century Latin American cultural studies, focusing on the analysis of countercultural expressions within literature, film, popular music, and comics and graphic novels. His research interests also include the cycles of political violence and impunity in 20th century Latin American history as presented in its literature and popular culture. He has co-edited and written for critical volumes examining the literary production of Colombian writers Andrés Caicedo and Evelio Rosero, and has authored dozens of articles and chapters on recent and contemporary Latin American literature, films, and comics. His current research project examines manifestations of resilience and endurance in Spanish-language apocalyptic comics, analyzing community responses and survival strategies employed by their protagonists. His Latin American Comics Archive (LACA), which originated from a 2016 Dietrich/Mellon seed grant, was nominated for a Dean's Educational Innovation Fellowship Award at CMU, and was awarded "Best Formative Initiative Developed in 2018" by the Hispanic Digital Humanities international organization.
As a teacher in HS, Dr. Gómez's primary goals are to lead students towards a critical awareness and appreciation of the diverse body of cultural products which characterizes the Hispanic world, and to use literature, film, and popular culture to think critically about the cultural and historical constructions of our own and others' understandings. He teaches undergraduate courses at all levels, including some covering both the Spanish-speaking Latin American and Peninsular regions, and has taught the Language Acquisition and Technology course for MA students in Modern Languages. In his professional trajectory, LACA is part of a broader effort at innovating humanities courses by offering platforms through which students can use analogic and digital tools such as blogs, radio and audio podcasts, and visuals to improve their command of cultural and linguistic skills and communicate with audiences beyond the classroom. Dr. Gómez has designed and piloted Hispanic Studies topics courses in which, in addition to standard curriculum-based objectives for HS courses, students use LACA as an instrument to engage in research and computational techniques based on DH principles. A proposal to iterate one of these pilot courses was recently selected to receive a Provost's Inclusive Teaching Fellowship for 2020-2021.
Kim Hyatt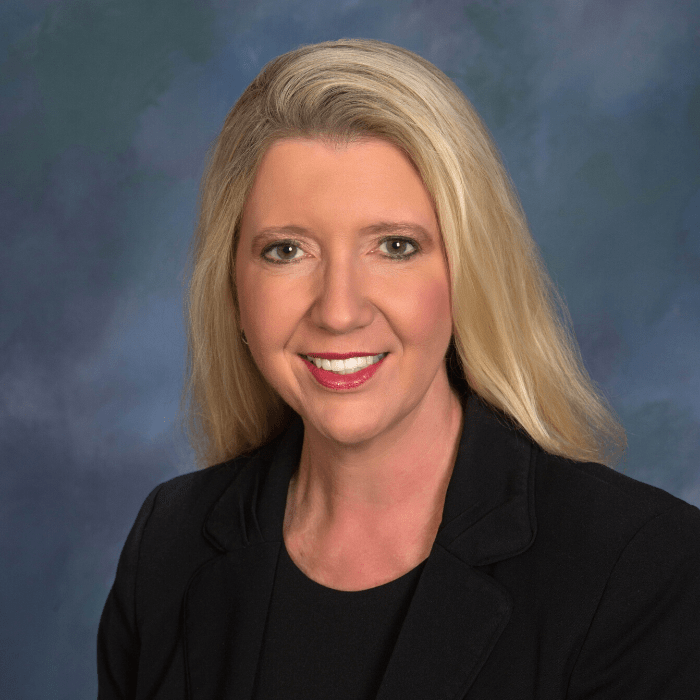 Teaching Professor, Heinz College of Information Systems and Public Policy and Management
Dr. Kim Johnson Hyatt teaches communication courses for the School of Information Systems Management and the School of Public Policy and Management at Carnegie Mellon University. Her research focuses on the development and utilization of a virtual reality (VR) application to improve public speaking skills using artificial intelligence, machine learning, and user reflections. Building off of this work, she is also exploring multi-user VR experiences to enhance communication skills in the workplace. Her new course, Communication in VR, launches in the spring of 2021 with all classes held in VR using Oculus Quest 2 headsets. The primary goals are building professional relationships through avatar interactions, delivering dynamic presentations for a targeted audience, and developing successful co-creation sessions with a shared vision.
Kim serves as a member of CMU's University Education Council and as a member of the Faculty Senate. She is also an educational and instructional technology consultant, an editor for professional communication and technology journals, and a robotics coach for FIRST and VEX teams. In her spare time, Dr. Hyatt founded Team RobotiX, a nonprofit STEAM (science, technology, engineering, arts, and mathematics) organization that engages professionals from the Pittsburgh community to provide free outreach programs for K-12 students and teachers.
---
2020 Team Awardee: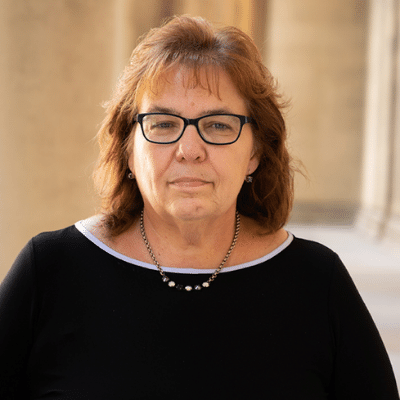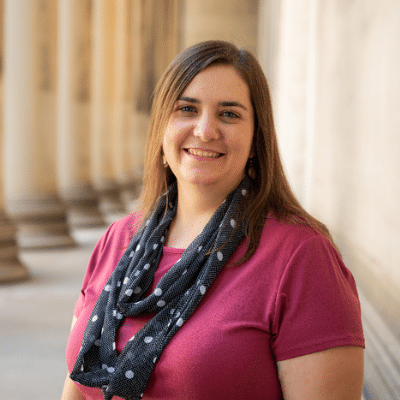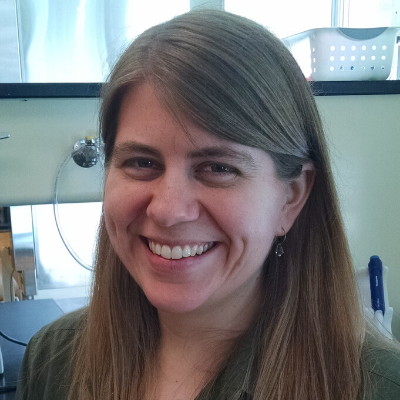 Carrie Doonan, Director of Undergraduate Laboratories, Department of Biological Sciences
Lynley Doonan, Special Lecturer, Department of Biological Sciences
Emily Drill, Assistant Teaching Professor, Department of Biological Sciences and
Natalie McGuier, Assistant Teaching Professor, Department of Biological Sciences
Dr. Carrie Doonan is the Director of Undergraduate Laboratories and Teaching Professor in the Department of Biological Sciences.  Her primary area of focus involves the teaching and administration of a range of experimental laboratories in the department. She is responsible for writing and developing experimental units, training of junior faculty and teaching assistants, and is actively involved in all aspects of the undergraduate program. Dr. Doonan has adapted many of her curricular innovations for use in K-12 outreach and has been invited to present this work at regional and national forums. She served as a Biotechnology Institute National Biotechnology Teacher-Leader, was awarded the Julius Ashkin Teaching Award in the Mellon College of Science, and the Mark Gelfand Award for Service Learning and Outreach.
Dr. Lynley Doonan joined the Department of Biological Sciences at Carnegie Mellon University as Special Faculty in 2018. She earned her Ph.D. at the University of Pittsburgh in Molecular, Cell, and Developmental Biological Sciences with a teaching minor and her B.S. in Biological Sciences at Carnegie Mellon University. She has been teaching introductory biology laboratory classes to expose students to a variety of basic biology laboratory techniques. She also teaches and developed laboratory modules for the Frontiers in Analysis and Discovery lab course and teaches outreach through the Pennsylvania Governor's School for the Sciences and the Gelfand Saturday series.
Dr. Emily Drill is an Assistant Teaching Professor in the Department of Biological Sciences. She has been teaching laboratory courses at CMU since 2012, including the development of a new upper level laboratory course in Experimental Neuroscience, advanced experimental modules for the other upper level biology lab courses, and a CRISPR research module for FADS.  She is also regularly involved in teaching and outreach through the Pennsylvania Governor's School for the Sciences, the Gelfand Saturday series, and the MCS EUREKA course, and serves as a co-advisor to Women in Science.
Dr. Natalie McGuier is an Assistant Teaching Professor in the Department of Biological Sciences undergraduate teaching labs. Since 2016 she has taught several different courses at a variety of levels in the teaching labs including courses for non-majors, first yeast students, and biology majors. She has developed a course designed to expose non-majors to biology bench work through brewing science and co-developed a lab course to engage bio-interested first-years in an authentic research experience. Recently she has begun work on developing a research-based course for non-majors in partnership with a local brewery. Dr. McGuier serves as the co-adviser to NeuroSAC, the Vice Pesident of the CMU chapter of Sigma Xi, the scientific research honor society.
Dr. Doonan, Dr. Doonan, Dr. Drill and Dr. McGuier are the team of lab instructors for 03-117, Frontiers, Analysis, and Discovery (FADS), a new lab class for first-year MCS majors that provides a unique research experience. A learning objective of the FADS course is to build a sense of community through interactions with fellow biology majors in the FADS and 03-343 Genetics lab classes. They carefully designed and facilitated research team meetings between the two lab classes to understand and explore the relevance of their research project and its applications in the field of biology. This course helps to build a biology community by making connections with Faculty and fellow Biology majors starting in the first year.