The Doherty Award
Carnegie Mellon established the Robert E. Doherty Award for Sustained Contributions to Excellence in Education to recognize a member of the university community who has made substantial and sustained contributions to excellence in education. The Doherty Award is intended to recognize contributions to the development, implementation and evaluation of educational programs at all levels, and to the creation and maintenance of an environment that fosters excellence in education.
2023 Award Recipient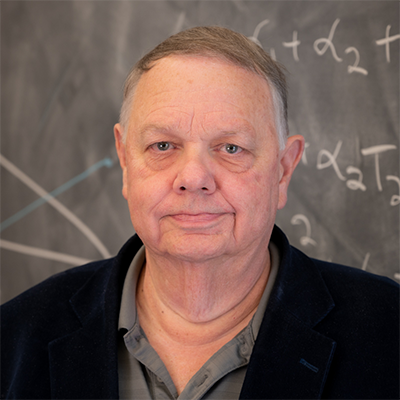 William Hrusa
Professor of Mathematical Sciences
Mellon College of Science

Bill Hrusa is a professor in the Department of Mathematical Sciences. He holds B.S degrees in mathematics and mechanical engineering from Syracuse University (1978). He completed his graduate studies in applied mathematics at Brown University, receiving an Sc.M. degree in 1979 and a Ph.D. in 1982. He began his career at CMU as an Assistant Professor in the fall of 1982 and he has been in residence at CMU's Pittsburgh campus continuously since then, except for three semesters (in 1983, 1984 and 1986) which were spent as a visiting faculty member at the Math Research Center of the University of Wisconsin-Madison.
He has held several administrative positions in the Department of Mathematical Sciences including interim head, associate head and director of graduate studies; the latter role for 22 years. He is currently the director of the Bachelor of Science in Computational Finance Program. He has won several previous education awards at CMU: the Ashkin Award, the Ryan Award, the Moore Award and the Lazarus Award. He has supervised six Ph.D. students, three honors master's students and well over 100 undergraduate research students. He has served on numerous committees concerning educational activities at CMU, has created (or co-created) several courses and produced educational materials for a variety of other classes as well. He has been heavily involved with SUAMI (Summer Undergraduate Applied Mathematics Research Institute) since its inception in 1991. SUAMI provides research opportunities for students from groups that have been historically underrepresented in mathematics.
He is the academic advisor for the Quant Club, and helps to organize events such as mock interviews, quantitative problem-solving competitions, panel discussions, market making games, etc. 
He has two children (Daniel and Sarah) and one grandchild (so far). When he is not around CMU, his favorite place to be is on the water at Conneaut Lake in his Cobalt Bowrider, his classic Century Resorter or riding his jetski.
He is grateful to have a job that he really loves for more than 40 years where he has the opportunity to interact with wonderful students and colleagues.
Past Recipients
Complete Recipient List
Information listed reflects the recipient at the time of the award.

2016
Eric W. Grotzinger
Biological Sciences
2014
Michael C. Murphy
Campus Affairs

2013
John P. Lehoczky
Dietrich College of Humanities and Social Sciences
2012
Mark Stehlik
Department of Computer Science
2009
Bill Elliott
Enrollment Services
Paul S. Goodman
Tepper School of Business

2007
G. Richard Tucker
Department of Modern Languages

2005
Peter Madsen
Department of Philosophy

2004
William Brown
Department of Biological Sciences

2003
Art Westerberg
Department of Chemical Engineering

2002
Harry Faulk
Heinz College

2001
Barbara Lazarus
Office of the Provost
2000
Steven E. Shreve
Department of Mathematical Sciences
1999
Angel Jordan
Robotics Institute

1998
Susan Ambrose
Eberly Center for Teaching Excellence and History
1997
Hugh Young
Department of Physics
1996
Steve Fenves
Department of Civil and Environmental Engineering
1995
Peter Stearns
Department of History
1994
Elizabeth Jones
Department of Biological Sciences
1992
Indira Nair
Department of Engineering and Public Policy
1991
Joel A. Tarr
Department of History
1990
Lawrence Carra
School of Drama
1989
Tung Au
Department of Civil Engineering
Erwin Steinberg
Department of English
1988
Edwin Fenton
Department of History
M. Granger Morgan
Department of Engineering and Public Policy