The Barbara Lazarus Award
Carnegie Mellon's Barbara Lazarus Award recognizes exemplary contributions to fostering a welcoming and nurturing environment for graduate students and young faculty at Carnegie Mellon.
2023 Award Recipient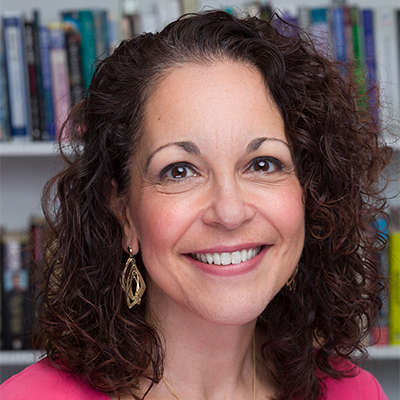 Danielle Wetzel
Teaching Professor of English;
Director of Writing & Communication Program
Dietrich College of Humanities and Social Sciences
Danielle focuses mainly on teacher training, curriculum design and assessment, specifically for first-year writing. Broadly, she is interested in how we design instruction to help linguistically diverse students make data-informed, mindful and culturally aware writing decisions for the genres they produce. She is also interested in how to motivate and assess the rhetorical reasoning that leads to those writing decisions.

Teaching & Research
Each spring, Danielle teaches a core course for English Ph.D. students who teach first-year writing: Theory and Design of Writing Instruction. She also teaches various flavors of our first-year writing courses, including our first-year writing half-semester courses called "minis."

Currently, Danielle works with the DocuScope team (Dave Kaufer, Suguru Ishizaki, Necia Werner and David Brown), considering how to move a research-based tool to a pedagogical tool that puts the learner at the center. Her most recent research projects relate to this collaboration.

Writing Program Administration
As the writing program administrator who directs the foundational writing & communication courses for the university, Danielle works closely with the university's Core Competencies educational initiatives, particularly in the area of writing and communication. These initiatives help her to learn about students' needs throughout the university so that the foundations courses remain relevant.

In addition to this connection to university stakeholders, much of Danielle's perspective has been informed by two professional service positions that she was fortunate to hold. These positions connected her to research, assessment and teaching practices for high school students and for multilingual students. She served as Chair of the College Board's AP Language & Composition Test Development Committee and also as Chair for the Second Language Writing Interest Section for TESOL (Teaching English to Speakers of Other Languages).

Danielle's work allows her to teach and practice with new writing teachers, whether new to CMU or new to teaching writing. She also teaches new college students—first-year students—who challenge her to keep the writing instruction sincere and grounded. 
Past Recipients
Complete Recipient List
Information listed reflects the recipient at the time of the award.

2016
Lynn M. Walker
Department of Chemical Engineering
2015
Jeanne VanBriesen
Department of Civil and Environmental Engineering and the Center for Water Quality in Urban Environmental Systems

2014
M. Granger Morgan
Departments of Electrical and Computer Engineering and Engineering and Public Policy and Heinz College
2012
Dena Haritos Tsamitis
Information Networking Institute and CyLab

2010
William J. Hrusa
Department of Mathematical Sciences
2009
Nancy Monda
Department of Modern Languages
2008
Sharon Burks
Department of Computer Science
2007
Everett Tademy
Human Resources
2006
Susan Polansky
Department of Modern Languages
2005
Indira Nair
Department of Engineering and Public Policy