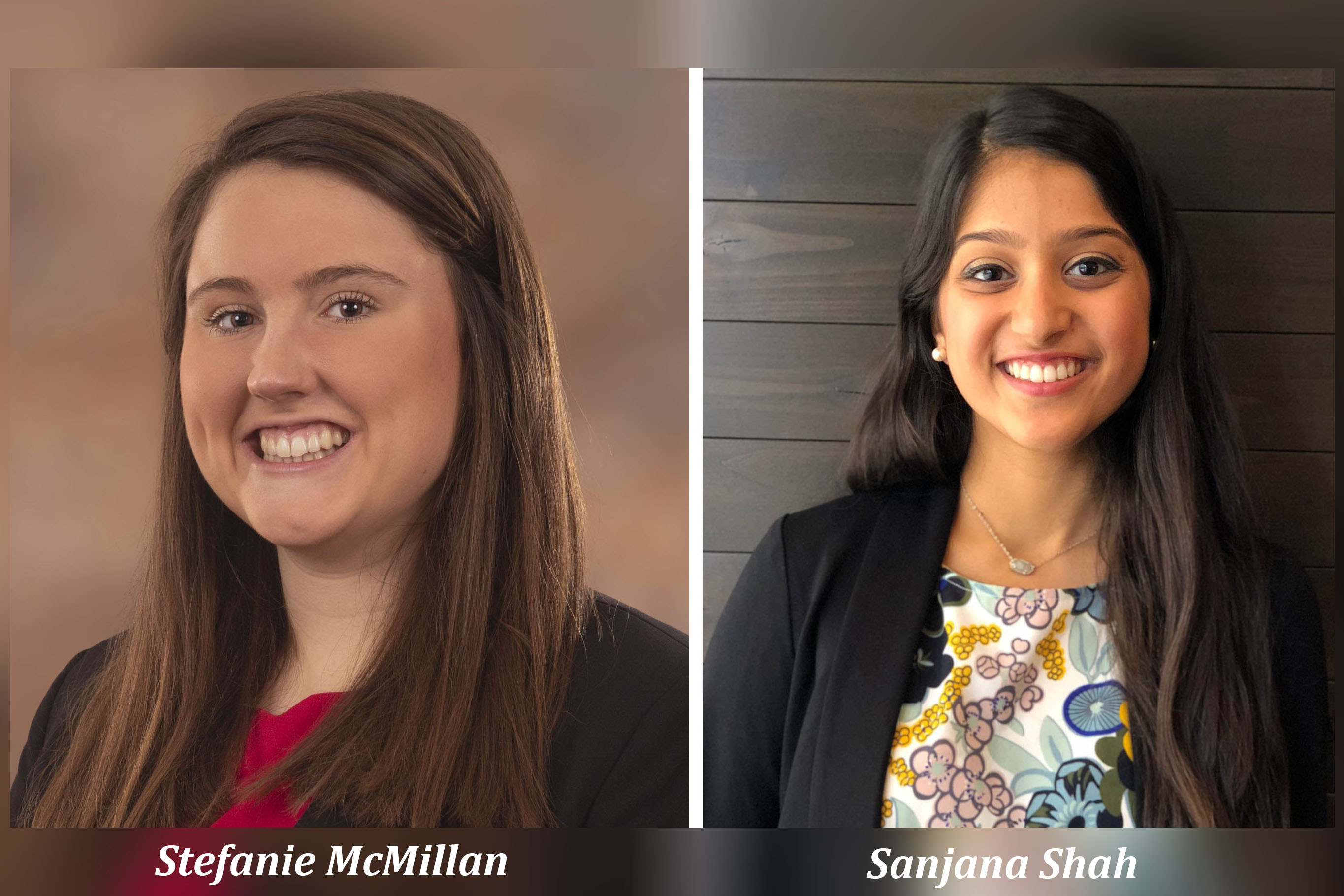 October 01, 2020
Two BME Students Named ACS Scholars
Carnegie Mellon's Andrew Carnegie Society (ACS) has chosen 40 seniors for recognition as ACS Scholars for the 2020-21 academic year. Two of this year's honorees are from the Biomedical Engineering Department: Stefanie McMillan and Sanjana Shah.
"We're extremely proud of these two women, both of whom exemplify a strong commitment to academic excellence, leadership and community service," says BME Department Head Bin He. "These are qualities that have been celebrated by the ACS Scholars program since it was founded 45 years ago ― and these qualities are still vital to academic and professional success today."
The ACS Scholars program is funded and managed by the Andrew Carnegie Society, a group of over 3500 alumni donors. Since 1975, the program has recognized more than 1,000 students with a monetary award that supports their academic and personal growth.
Selected each year by their deans and department heads from across Carnegie Mellon, ACS Scholars are undergraduate seniors who embody the University's high standards of academic excellence, volunteerism, leadership and involvement in student organizations, athletics or the arts.
Meet BME's 2020-21 Honorees
With a dual major in BME and Materials Science and Engineering, Stefanie McMillan is a model student-athlete. She excels academically, maintaining a 3.87 QPA in two majors that entail both a heavy academic course load and a number of challenging group projects. McMillan also excels athletically as a member of the Carnegie Mellon varsity swim team. In fact, she was a 2018 University Athletic Association (UAA) finalist in the freestyle.
While her academic and athletic commitments are time-consuming, McMillan is involved in many extracurricular activities. As president of the Student Athlete Advisory Committee at CMU, she plans and leads meetings and events, including tutoring programs for underprivileged elementary school students, as well as diversity and inclusion training. She is also the vice president for Plaidvocates, a peer health and wellness advocacy program for student-athletes that supports the well-being of CMU's varsity athletics community. She is the committee head for the Special Olympics (Pennsylvania) Western Spring Sectional swimming competition.
To help welcome new students to the University, McMillan served as a head orientation counselor for the 2020 First-Year Orientation program, which was delivered in a hybrid format for over 1,500 first-year students. In addition, she mentors underclassmen as a member of the Society of Women Engineers at CMU.
Although only a college senior, Sanjana Shah has already built an impressive record as a biomedical researcher.

With a dual major in BME and Chemical Engineering, she has worked in the lab of Professor Adam W. Feinberg since the fall of 2018. Her work there focuses on utilizing a protein-based sensor to evaluate the forces that tissues experience during development. Shah was an invited undergraduate speaker at the 2019 Biomedical Engineering Society (BMES) Annual Conference, an international event held in October 2019 in Philadelphia that was attended by more than 5,000 people.
After graduation, Shah plans to attend medical school. She has already demonstrated the excellent research and time management skills needed to succeed ― and has maintained a 4.00 QPA while balancing the challenging course load associated with both chemistry and biomedical engineering studies.
Shah also successfully balances her research and academics with campus activities. She holds leadership positions in both Doctors of Carnegie Mellon and the Society of Women Engineers. Shah is active in the CMU Bhangra Dance Team, and has served as a teaching assistant for Introduction to Psychology.