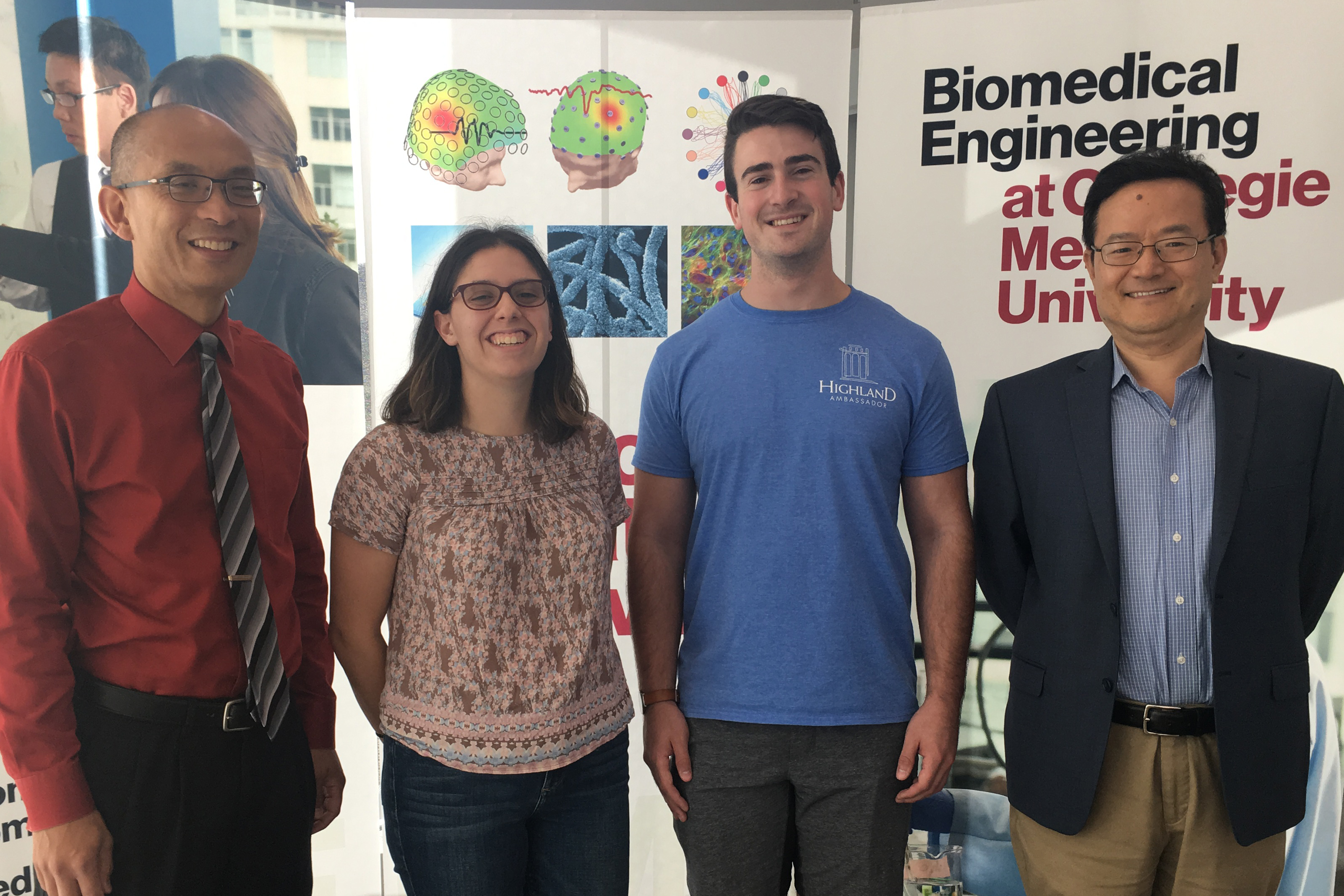 October 17, 2019
Two BME Undergraduate Students Named ACS Scholars for 2019-2020 academic year
ACS Scholars are undergraduate seniors who embody Carnegie Mellon's high standards of academic excellence, volunteerism, leadership and involvement in student organizations, athletics or the arts. They are selected each year by their deans and department heads to represent their class in service and leadership.

Talia Solomon
Senior, Biomedical Engineering/Chemical Engineering
Minor in Chemistry

Talia is currently the President of the Hillel Jewish Students Association and has served as the Vice President and Education Chair as well. Talia also served as a Residential Education Ambassador (Head Ambassador) and organized and hosted events for first year students in their residential community. Talia is a member of Women's Club Soccer team.
Talia is an accomplished cellular engineering undergraduate researcher. Her current research at Carnegie Mellon University investigates the mechanisms by which exosomes release proteins into their environment. Her other research experiences include Berkeley Lights (assessment the phenotype of T-cells using the Berkeley Lights Beacon® optofluidic platform), the National Institute of Arthritis and Musculoskeletal and Skin Diseases (reevaluation of YB-1 function under stress and in vivo identification of fuse binding protein interactions with DNA), and the University of Pittsburgh Medical Center (exploration of the connections between the immune cells and Schwann cells in melanoma). Following graduation, Talia plans to pursue a MD-PhD to become a physician scientist. Her PhD work in biomedical engineering will focus on drug delivery.

Michael Fernandez
Senior, Biomedical Engineering/Mechanical Engineering
Minors in Robotics and Business Administration

Michael is currently the President of Phi Delta Theta Fraternity, as has served as the Warden as well. He is also a Carnegie Mellon Highland Ambassador and First Year Orientation Counselor, as well as a member of the Society of Hispanic Professional Engineers. Michael plays saxophone in the Carnegie Mellon Kiltie Marching, Concert, and Pep Band. He is a Carnegie Mellon University Charpie Scholar, which is a merit scholarship awarded on basis of demonstrated leadership and academic performance. Michael organized a mental health lecture for Carnegie Mellon University students and invited Dennis Gillan to give his presentation on his experience with student suicides.

Michael is also an accomplished robotics undergraduate researcher, as he has significant robotics experience at Carnegie Mellon University. In the Experimental Biomechatronics Lab, he designed and tested powered ankle and knee exoskeletons to create metabolic reductions in humans. In the Biorobotics Lab, Michael optimized and implemented trajectory optimization for hexapod robots to more efficiently traverse rough terrain. Following graduation, Michael plans to pursue a doctorate in mechanical engineering/robotics.

Michael is a wonderful example of a successful CMU student who has played an active role in campus life as a leader, while excelling academically and conducting important research. He is an exceptional candidate for the Andrew Carnegie Scholars Program.
In addition to all of her outreach, Sarah has actively pursued a number of research opportunities at CMU and at UPMC. She plan on pursuing medical school after her undergraduate degree is over, and her passion and drive has been evident throughout the last several years that I have had the chance to work with her. This upcoming fall Sarah will be participating in CIT Honors Research.