Alan S. Waggoner
Maxwell H. and Gloria C. Connan Professor of Life Sciences

Address: 
294B Mellon Institute
Department of Biological Sciences
Carnegie Mellon University
4400 Fifth Avenue
Pittsburgh, PA 15213
Phone: 412-268-3456
Fax: 412-268-7129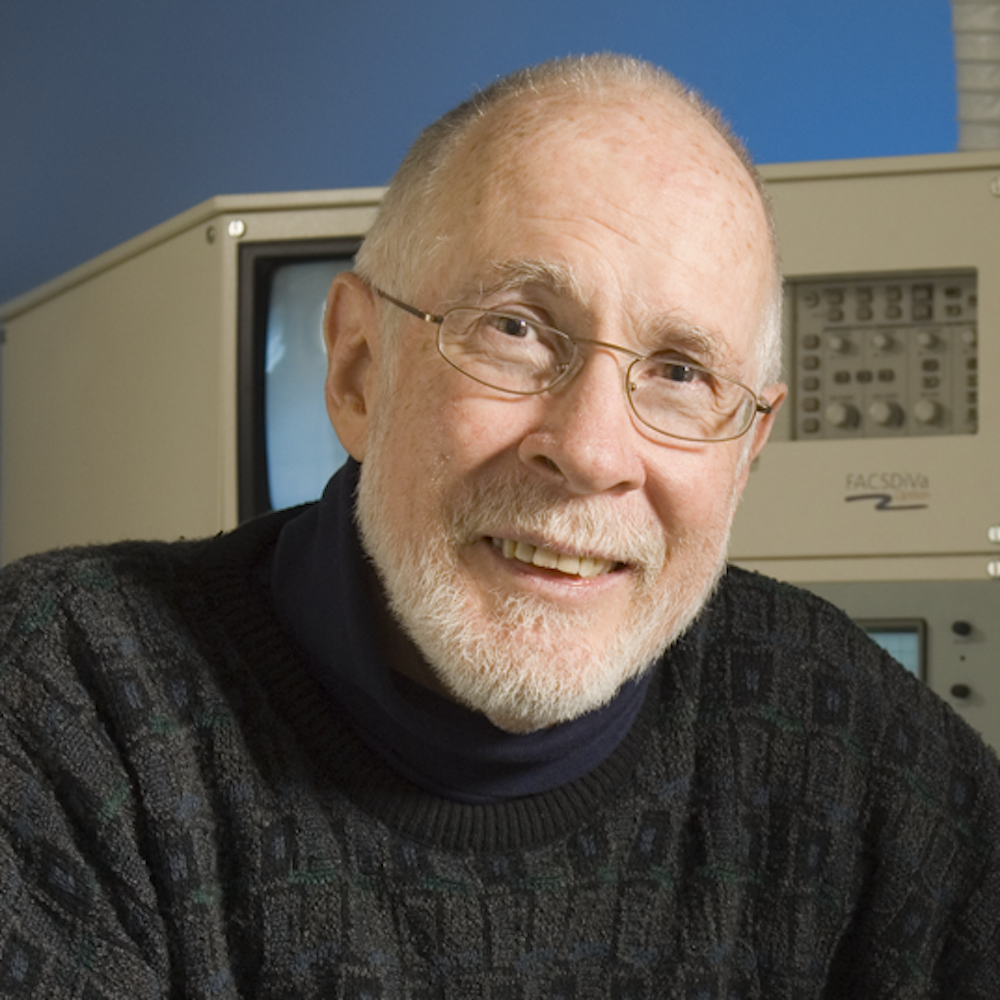 Education
Ph.D., University of Oregon
Postdoctoral Fellow, Yale University
Research
Dr. Waggoner's research group creates fluorescence-based detection systems for biology and biotechnology. The cyanine dye fluorescent labeling reagents developed in the laboratory have become widely used in industry and academic research for multicolor analysis of proteins, nucleic acids, cells and tissues by imaging and flow cytometry. The laboratory has participated in a wide range of research projects. As part of a NASA funded project we produced a panel of fluorescent reagents and an imaging system, which detected sparse microbial life in the extreme environment of the Atacama desert. We are also developing new fluorescent reagents to monitor cellular electrical potential and ion fluxes to study the cardiac function of living mammalian hearts.
Dr. Waggoner is currently leading the Molecular Biosensor and Imaging Center into creating a novel sensor unit technology for a broad class of biosensors. We envision this technology will provide a very powerful, and almost generic, tool for detecting protein interactions on and inside living cells. The sensor units are generated by combining engineered, cell-expressed target-binding proteins and environmentally sensitive fluorescent dyes that report target binding. Multiple sensors can be expressed simultaneously to sensitively and rapidly detect several targets within individual cells.
These sensor units are being incorporated into intracellular sensors, sensor particles and optical fiber sensors for interstitial spaces in tissues, sensors on chips for in vitro assays, and sensors for high throughput automated homogeneous assays in pharmaceutical drug discovery.
Publications
Magenau AJ, Saurabh S, Andreko SK, Telmer CA, Schmidt BF, Waggoner AS, Bruchez MP. Genetically targeted fluorogenic macromolecules for subcellular imaging and cellular perturbation. Biomaterials. 2015 Jul 2;66:1-8.

Fisher GW, Fuhrman MH, Adler SA, Szent-Gyorgyi C, Waggoner AS, Jarvik JW. Self-Checking Cell-Based Assays for GPCR Desensitization and Resensitization. J Biomol Screen. 2014 May 12.

Wu Y, Tapia PH, Jarvik J, Waggoner AS, Sklar LA. Real-time detection of protein trafficking with high-throughput flow cytometry (HTFC) and fluorogen-activating protein (FAP) base biosensor. Curr Protoc Cytom. 2014 Jan 2;67:Unit 9.43.

Grover A, Schmidt BF, Salter RD, Watkins SC, Waggoner AS, Bruchez MP. Genetically Encoded pH Sensor for Tracking Surface Proteins through Endocytosis. Angew Chem Int Ed Engl. 2012 Mar 29. doi: 10.1002/anie.201108107. [Epub ahead of print]

Zanotti KJ, Silva GL, Creeger Y, Robertson KL, Waggoner AS, Berget PB, Armitage BA. Blue fluorescent dye-protein complexes based on fluorogenic cyanine dyes and single chain antibody fragments. Org Biomol Chem. 9(4):1012-20, 2011. Epub 2010 Dec 22.
Fisher GW, Adler SA, Fuhrman MH, Waggoner AS, Bruchez MP, Jarvik JW. Detection and quantification of beta2AR internalization in living cells using FAP-based biosensor technology. J Biomol Screen. 15(6):703-9, 2010. Epub 2010 May 20.
Ballou B, Ernst LA, Andreko S, Fitzpatrick JA, Lagerholm BC, Waggoner AS, Bruchez MP. Imaging vasculature and lymphatic flow in mice using quantum dots. Methods Mol Biol. 574:63-74, 2009.
Fitzpatrick JA, Andreko SK, Ernst LA, Waggoner AS, Ballou B, Bruchez MP. Long-term persistence and spectral blue shifting of quantum dots in vivo. Nano Lett. 9(7):2736-41, 2009.
Fitzpatrick JA, Yan Q, Sieber JJ, Dyba M, Schwarz U, Szent-Gyorgyi C, Woolford CA, Berget PB, Waggoner AS, Bruchez MP. STED nanoscopy in living cells using Fluorogen Activating Proteins. Bioconjug Chem. 20(10):1843-1847, 2009.
Constantin TP, Silva GL, Robertson KL, Hamilton TP, Fague K, Waggoner AS, Armitage BA. Synthesis of new fluorogenic cyanine dyes and incorporation into RNA fluoromodules. Org Lett. 10(8):1561-4, 2008. Epub 2008 Mar 14.
Phillippi JA, Miller E, Weiss L, Huard J, Waggoner A, Campbell P. Microenvironments engineered by inkjet bioprinting spatially direct adult stem cells toward muscle- and bone-like subpopulations. Stem Cells 26(1):127-34, 2008.
Szent-Gyorgyi C, Schmidt BF, Creeger Y, Fisher GW, Zakel KL, Adler S, Fitzpatrick JA, Woolford CA, Yan Q, Vasilev KV, Berget PB, Bruchez MP, Jarvik JW, Waggoner A. Fluorogen-activating single-chain antibodies for imaging cell surface proteins. Nat Biotechnol. 26(2):235-40, 2008. Epub 2007 Dec 23. Erratum in: Nat Biotechnol. 2008 Apr;26(4):470. Schmidt, Brigitte A [corrected to Schmidt, Brigitte F].
Weinstein S, Pane D, Ernst LA, Warren-Rhodes K, Dohm JM, Hock AN, Piatek JL, Emani S, Lanni F, Wagner M, Fisher GW, Minkley E, Dansey LE, Smith T, Grin EA, Stubbs K, Thomas G, Cockell CS, Marinangeli L, Ori GG, Heys S, Teza JP, Moersch JE, CoppinP, Diaz GC, Wettergreen DS, Cabrol NA, and Waggoner AS (2008) Application of pulsed-excitation fluorescence imager for daylight detection of sparse life in tests in the Atacama Desert, J. Geophys. Res. 113, G01S90, doi:10.1029/2006JG000319
Ballou B, Ernst LA, Andreko S, Harper T, Fitzpatrick JA, Waggoner AS, Bruchez MP. (2007) Sentinel lymph node imaging using quantum dots in mouse tumor models. Bioconjug Chem. 18(2):389-96, 2007. Epub 2007 Jan 31.
Benvin AL, Creeger Y, Fisher GW, Ballou B, Waggoner AS, Armitage BA. Fluorescent DNA nanotags: supramolecular fluorescent labels based on intercalating dye arrays assembled on nanostructured DNA templates. J Am Chem Soc. 129(7):2025-34, 2007. Epub 2007 Jan 26.
Chakraborty SK, Fitzpatrick JA, Phillippi JA, Andreko S, Waggoner AS, Bruchez MP, Ballou B. Cholera toxin B conjugated quantum dots for live cell labeling. Nano Lett. 7(9):2618-26, 2007. Epub 2007 Jul 31.
Patrick MJ, Ernst LA, Waggoner AS, Thai D, Tai D, and Salama G. Enhanced Aqueous Solubility of Long Wavelength Voltage-Sensitive Dyes by Covalent Attachment of Polyethylene Glycol Org. Biomol. Chem., 5, 3347-3353, 2007.