Marcel P. Bruchez
Professor, Biological Sciences and Chemistry

Director, Molecular Biosensors and Imaging Center

Address: 
749 Mellon Institute
Molecular Biosensors and Imaging Center
Carnegie Mellon University
4400 Fifth Avenue
Pittsburgh, PA 15213
Phone: 412-268-9611
Fax: 412-268-6571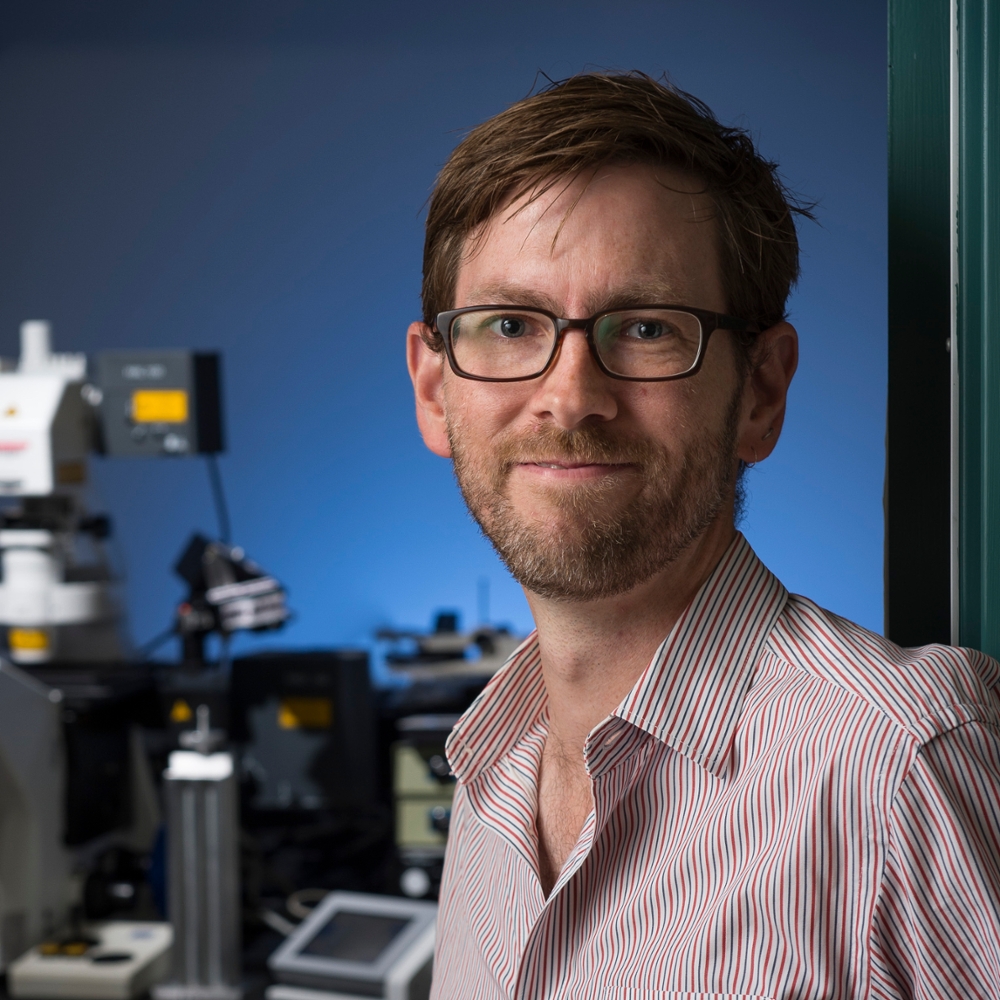 Education
Ph.D., University of California, Berkeley (Physical Chemistry)
Quantum Dot Corporation, Founder
Research
Biological research has been propelled by the availability of fluorescent proteins that allow dynamic microscopy of living cells. The repertoire of intrinsically fluorescent proteins is substantially less diverse in form and function than the repertoire of chemically synthetized dye molecules, yet genetic targeting provides such a significant advantage that probes 2-10-fold less bright than typical organic dyes are routinely used in fluorescence imaging. Our work is focused on developing tools that couple the best of the synthetic dyes with the advantages of genetic targeting. These novel probes allow unique investigations of cell-biological and biochemical processes fundamental to our understanding of health and diseases.
New tools for single molecule investigations and superresolution imaging
The limits of microscopy can be expanded dramatically by design and use of the right fluorescent dye molecules. Research in this area is focused on enhancing the brightness, stability and activation properties of dye molecules useful with our genetically expressed protein targets. We exploit these probes with sensitive fluorescence imaging to detect biological processes at higher resolution and longer timescales than conventionally achieved in fluorescence microscopy. These tools are applied to study the translation and folding of single molecules by the protein synthesis machinery of eukaryotic cells (the ribosome).
Targeted tools for protein trafficking
The endocytic/exocytic processes are fundamental to a wide range of biological phenomena, including immunity, allergy and synaptic transmission. Utilizing engineered proteins that fold well in the secretory pathway of cells and bind to otherwise weakly fluorescent dye molecules, we have developed a series of fluorescent indicators that are "activated by targeting." These ratiometric dyes enable direct interrogation of the endocytic trafficking process and the protein fate after stimulation by biological ligands or drugs. Trafficking of receptors under the influence of genetic mutations and pharmacologic treatments provides new mechanistic and therapeutic insights into receptor action in these important biological processes. 
Publications
Klose MK, Bruchez MP, Deitcher DL, Levitan ES. Temporally and spatially partitioned neuropeptide release from individual clock neurons. Proc Natl Acad Sci U S A. 2021 Apr 27;118(17):e2101818118. doi: 10.1073/pnas.2101818118. PMID: 33875606

Zhong Z, Ning J, Boggs EA, Jang S, Wallace C, Telmer C, Bruchez MP, Ahn J, Engelman AN, Zhang P, Watkins SC, Ambrose Z. Cytoplasmic CPSF6 Regulates HIV-1 Capsid Trafficking and Infection in a Cyclophilin A-Dependent Manner. mBio. 2021 Mar 23;12(2):e03142-20. doi: 10.1128/mBio.03142-20. PMID: 33758083

Liang P, Ballou B, Lv X, Si W, Bruchez MP, Huang W, Dong X. Monotherapy and Combination Therapy Using Anti-Angiogenic Nanoagents to Fight Cancer. Adv Mater. 2021 Apr;33(15):e2005155. doi: 10.1002/adma.202005155. Epub 2021 Mar 8. PMID: 33684242

Missinato MA, Zuppo DA, Watkins SC, Bruchez MP, Tsang M. Zebrafish heart regenerates after chemoptogenetic cardiomyocyte depletion. Dev Dyn. 2021 Jul;250(7):986-1000. doi: 10.1002/dvdy.305. Epub 2021 Feb 8. PMID: 33501711

Liang P, Kolodieznyi D, Creeger Y, Ballou B, Bruchez MP. Subcellular Singlet Oxygen and Cell Death: Location Matters. Front Chem. 2020 Nov 17;8:592941. doi: 10.3389/fchem.2020.592941. eCollection 2020. PMID: 33282833

Carpenter MA, Wang Y, Telmer CA, Schmidt BF, Yang Z, Bruchez MP. Protein Proximity Observed Using Fluorogen Activating Protein and Dye Activated by Proximal Anchoring (FAP-DAPA) System. ACS Chem Biol. 2020 Sep 18;15(9):2433-2443. doi: 10.1021/acschembio.0c00419. Epub 2020 Aug 17. PMID: 32786268

Xie W, Jiao B, Bai Q, Ilin VA, Sun M, Burton CE, Kolodieznyi D, Calderon MJ, Stolz DB, Opresko PL, St Croix CM, Watkins S, Van Houten B, Bruchez MP, Burton EA. Chemoptogenetic ablation of neuronal mitochondria in vivo with spatiotemporal precision and controllable severity. Elife. 2020 Mar 17;9:e51845. doi: 10.7554/eLife.51845. PMID: 32180546

Canady TD, Berlyoung AS, Martinez JA, Emanuelson C, Telmer CA, Bruchez MP, Armitage BA. Enhanced Hybridization Selectivity Using Structured GammaPNA Probes. Molecules. 2020 Feb 21;25(4):970. doi: 10.3390/molecules25040970. PMID: 32098111

Perkins LA, Bruchez MP. Fluorogen activating protein toolset for protein trafficking measurements. Traffic. 2020 Apr;21(4):333-348. doi: 10.1111/tra.12722. Epub 2020 Mar 1. PMID: 32080949

Yalcintas EP, Ackerman DS, Korkmaz E, Telmer CA, Jarvik JW, Campbell PG, Bruchez MP, Ozdoganlar OB. Analysis of In Vitro Cytotoxicity of Carbohydrate-Based Materials Used for Dissolvable Microneedle Arrays. Pharm Res. 2020 Jan 15;37(3):33. doi: 10.1007/s11095-019-2748-7. PMID: 31942659

Verdaguer MP, Larsen MB, Bruchez MP, Watkins SC, Sorkin A. Analysis of EGF Receptor Endocytosis Using Fluorogen Activating Protein Tagged Receptor. Bio Protoc. 2019 Dec 20;9(24):e3463. doi: 10.21769/BioProtoc.3463. eCollection 2019 Dec 20. PMID: 33654955

Kuljis DA, Park E, Telmer CA, Lee J, Ackerman DS, Bruchez MP, Barth AL. Fluorescence-Based Quantitative Synapse Analysis for Cell Type-Specific Connectomics. eNeuro. 2019 Oct 31;6(5):ENEURO.0193-19.2019. doi: 10.1523/ENEURO.0193-19.2019. Print 2019 Sep/Oct. PMID: 31548370

Whinn KS, Kaur G, Lewis JS, Schauer GD, Mueller SH, Jergic S, Maynard H, Gan ZY, Naganbabu M, Bruchez MP, O'Donnell ME, Dixon NE, van Oijen AM, Ghodke H. Nuclease dead Cas9 is a programmable roadblock for DNA replication. Sci Rep. 2019 Sep 16;9(1):13292. doi: 10.1038/s41598-019-49837-z. PMID: 31527759

Qian W, Kumar N, Roginskaya V, Fouquerel E, Opresko PL, Shiva S, Watkins SC, Kolodieznyi D, Bruchez MP, Van Houten B. Chemoptogenetic damage to mitochondria causes rapid telomere dysfunction. Proc Natl Acad Sci U S A. 2019 Sep 10;116(37):18435-18444. doi: 10.1073/pnas.1910574116. Epub 2019 Aug 26. PMID: 31451640

Bulgari D, Deitcher DL, Schmidt BF, Carpenter MA, Szent-Gyorgyi C, Bruchez MP, Levitan ES. Activity-evoked and spontaneous opening of synaptic fusion pores. Proc Natl Acad Sci U S A. 2019 Aug 20;116(34):17039-17044. doi: 10.1073/pnas.1905322116. Epub 2019 Aug 5. PMID: 31383765

Jang S, Kumar N, Beckwitt EC, Kong M, Fouquerel E, Rapić-Otrin V, Prasad R, Watkins SC, Khuu C, Majumdar C, David SS, Wilson SH, Bruchez MP, Opresko PL, Van Houten B. Damage sensor role of UV-DDB during base excision repair. Nat Struct Mol Biol. 2019 Aug;26(8):695-703. doi: 10.1038/s41594-019-0261-7. Epub 2019 Jul 22. PMID: 31332353

Larsen MB, Perez Verdaguer M, Schmidt BF, Bruchez MP, Watkins SC, Sorkin A. Generation of endogenous pH-sensitive EGF receptor and its application in high-throughput screening for proteins involved in clathrin-mediated endocytosis. Elife. 2019 May 8;8:e46135. doi: 10.7554/eLife.46135. PMID: 31066673

Ackerman DS, Altun B, Kolodieznyi D, Bruchez MP, Tsourkas A, Jarvik JW. Antibody-Linked Fluorogen-Activating Proteins for Antigen Detection and Cell Ablation. Bioconjug Chem. 2019 Jan 16;30(1):63-69. doi: 10.1021/acs.bioconjchem.8b00720. Epub 2018 Dec 26. PMID: 30543409

Tan X, Bruchez MP, Armitage BA. Efficient Cytoplasmic Delivery of Antisense Probes Assisted by Cyclized-Peptide-Mediated Photoinduced Endosomal Escape. Chembiochem. 2019 Mar 1;20(5):727-733. doi: 10.1002/cbic.201800709. Epub 2019 Jan 23. PMID: 30452106

Shelke SA, Shao Y, Laski A, Koirala D, Weissman BP, Fuller JR, Tan X, Constantin TP, Waggoner AS, Bruchez MP, Armitage BA, Piccirilli JA. Structural basis for activation of fluorogenic dyes by an RNA aptamer lacking a G-quadruplex motif. Nat Commun. 2018 Oct 31;9(1):4542. doi: 10.1038/s41467-018-06942-3. PMID: 30382099

Tan X, Bruchez MP, Armitage BA. Closing the Loop: Constraining TAT Peptide by γPNA Hairpin for Enhanced Cellular Delivery of Biomolecules. Bioconjug Chem. 2018 Sep 19;29(9):2892-2898. doi: 10.1021/acs.bioconjchem.8b00495. Epub 2018 Aug 22. PMID: 30130094

Zeng G, Wang Y, Bruchez MP, Liang FS. Self-Reporting Chemically Induced Protein Proximity System Based on a Malachite Green Derivative and the L5** Fluorogen Activating Protein. Bioconjug Chem. 2018 Sep 19;29(9):3010-3015. doi: 10.1021/acs.bioconjchem.8b00415. Epub 2018 Aug 20. PMID: 30016083
Hager NA, Krasowski CJ, Mackie TD, Kolb AR, Needham PG, Augustine AA, Dempsey A, Szent-Gyorgyi C, Bruchez MP, Bain DJ, Kwiatkowski AV, O'Donnell AF, Brodsky JL. Select α-arrestins control cell-surface abundance of the mammalian Kir2.1 potassium channel in a yeast model. J Biol Chem. 2018 Jul 13;293(28):11006-11021. doi: 10.1074/jbc.RA117.001293. Epub 2018 May 21. PMID: 29784874

Lin Y, Schmidt BF, Bruchez MP, McManus CJ. Structural analyses of NEAT1 lncRNAs suggest long-range RNA interactions that may contribute to paraspeckle architecture. Nucleic Acids Res. 2018 Apr 20;46(7):3742-3752. doi: 10.1093/nar/gky046. PMID: 29394378
Bruchez MP. Through, rather than across. Nat Mater. 2018 Feb;17(2):112-113. doi: 10.1038/nmat5073. PMID: 31745265

Perkins LA, Fisher GW, Naganbabu M, Schmidt BF, Mun F, Bruchez MP. High-Content Surface and Total Expression siRNA Kinase Library Screen with VX-809 Treatment Reveals Kinase Targets that Enhance F508del-CFTR Rescue. Mol Pharm. 2018 Mar 5;15(3):759-767. doi: 10.1021/acs.molpharmaceut.7b00928. Epub 2018 Feb 9. PMID: 29384380

Perkins LA, Yan Q, Schmidt BF, Kolodieznyi D, Saurabh S, Larsen MB, Watkins SC, Kremer L, Bruchez MP. Genetically Targeted Ratiometric and Activated pH Indicator Complexes (TRApHIC) for Receptor Trafficking. Biochemistry. 2018 Feb 6;57(5):861-871. doi: 10.1021/acs.biochem.7b01135. Epub 2018 Jan 16. PMID: 29283245

Pratt CP, Kuljis DA, Homanics GE, He J, Kolodieznyi D, Dudem S, Hollywood MA, Barth AL, Bruchez MP. Tagging of Endogenous BK Channels with a Fluorogen-Activating Peptide Reveals β4-Mediated Control of Channel Clustering in Cerebellum. Front Cell Neurosci. 2017 Oct 31;11:337. doi: 10.3389/fncel.2017.00337. PMID: 29163049

Magenau AJ, Saurabh S, Andreko SK, Telmer CA, Schmidt BF, Waggoner AS, Bruchez MP. Genetically targeted fluorogenic macromolecules for subcellular imaging and cellular perturbation. Biomaterials. 2015 Jul 2;66:1-8.
Bruchez MP. Dark dyes-bright complexes: fluorogenic protein labeling. Curr Opin Chem Biol. 2015 Jun 5;27:18-23
Yan Q, Bruchez MP. Advances in chemical labeling of proteins in living cells. Cell Tissue Res. 2015 Mar 7.
Telmer CA, Verma R, Teng H, Andreko S, Law L, Bruchez MP. Rapid, Specific, No-wash, Far-red Fluorogen Activation in Subcellular Compartments by Targeted Fluorogen Activating Proteins. ACS Chem Biol. 2015 Feb 16.
Yan Q, Schmidt BF, Perkins LA, Naganbabu M, Saurabh S, Andreko SK, Bruchez MP. Near-instant surface-selective fluorogenic protein quantification using sulfonated triarylmethane dyes and fluorogen activating proteins. Org Biomol Chem. 2015 Feb 21;13(7):2078-86.
Wang Y, Telmer CA, Schmidt BF, Franke JD, Ort S, Arndt-Jovin DJ, Bruchez MP. Fluorogen activating protein-affibody probes: modular, no-wash measurement of epidermal growth factor receptors. Bioconjug Chem. 2015 Jan 21;26(1):137-44.
Schwartz SL, Yan Q, Telmer CA, Lidke KA, Bruchez MP, Lidke DS. ACS Chem Biol. 2015 Feb 20;10(2):539-46. ACS Chem Biol. 2015 Feb 20;10(2):539-46.
Saurabh S, Beck LE, Maji S, Baty CJ, Wang Y, Yan Q, Watkins SC, Bruchez MP. Multiplexed modular genetic targeting of quantum dots. ACS Nano. 2014 Nov 25;8(11):11138-46.
Yan Q, Schwartz SL, Maji S, Huang F, Szent-Gyorgyi C, Lidke DS, Lidke KA, Bruchez MP. Localization microscopy using noncovalent fluorogen activation by genetically encoded fluorogen-activating proteins. Chemphyschem. 2014 Mar 17;15(4):687-95.
Lan L, Nakajima S, Wei L, Sun L, Hsieh CL, Sobol RW, Bruchez M, Van Houten B, Yasui A, Levine AS. Novel method for site-specific induction of oxidative DNA damage reveals differences in recruitment of repair proteins to heterochromatin and euchromatin. Nucleic Acids Res. 2014 Feb;42(4):2330-45.
Tan X, Dey SK, Telmer C, Zhang X, Armitage BA, Bruchez MP. Aptamers act as activators for the thrombin mediated-hydrolysis of peptide substrates. Chembiochem. 2014 Jan 24;15(2):205-8.
Bruchez MP. Quantum Dots Find Their Stride in Single Molecule Tracking. Current Opinion in Chemical Biology 2011. In press.
Micheva KD and Bruchez MP. The gain in brain: novel imaging techniques and multiplexed proteomic imaging of brain tissue ultrastructure. Current Opinion in Neurobiology 2011. Published online ahead of print. Doi:10.1016/j.conb.2011.08.004
Mittal R and Bruchez MP. Biotin-4-Fluorescein Based Fluorescence Quenching Assay for Determination of Biotin Binding Capacity of Streptavidin Conjugated Quantum Dots. Bioconjugate Chemistry 2011.
Szent-Gyorgyi C, Schmidt BF, Fitzpatrick, JAJ and Bruchez, MP. Fluorogenic Dyedrons with Multiple Donor Chromophores as Bright Genetically Targeted and Activated Probes. Journal of the American Chemical Society, 2010.
Fisher GW, Adler SA, Fuhrman MH, Waggoner AS, Bruchez MP, and Jarvik JW. Detection and Quantification of β2AR Internalization in Living Cells using FAP-based Biosensors. Journal of Biomolecular Screening 2010.
Fitzpatrick JAJ, Yan Q, Sieber JJ, Dyba M, Schwarz U, Szent-Gyorgyi C, Woolford C, Berget PB, Waggoner AS and Bruchez MP.STED nanoscopy in living cells using Fluorogen Activating Peptides. Bioconjugate Chemistry 2009.
Fitzpatrick JAJ, Andreko SK, Ernst LA, Waggoner AS, Ballou B and Bruchez MP. Long term persistence and spectral blue-shifting of quantum dots in vivo. Nano Letters 2009.
Szent-Gyorgyi C, Schmidt B, Creeger Y, Fisher G, Zakel K, Adler S, Fitzpatrick J, Woolford C, Yan Q, Vasilev K, Berget PB, Bruchez MP, Jarvik J, Waggoner AS. Fluorogen activating proteins: Technology for imaging and assaying cell surface proteins. Nature Biotechnol 2008.