Marcel P. Bruchez
Professor, Biological Sciences and Chemistry

Director, Molecular Biosensors and Imaging Center

Address: 
749 Mellon Institute
Molecular Biosensors and Imaging Center
Carnegie Mellon University
4400 Fifth Avenue
Pittsburgh, PA 15213
Phone: 412-268-9611
Fax: 412-268-6571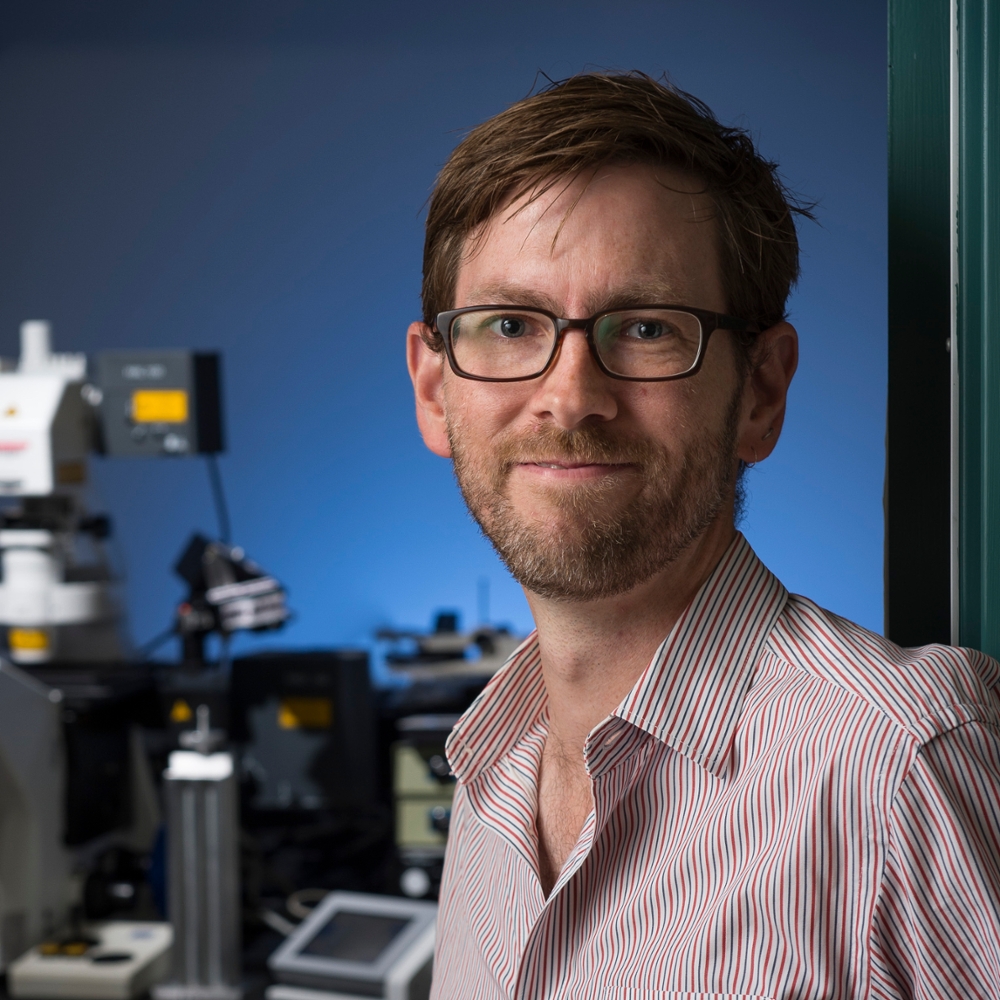 Education
Ph.D., University of California, Berkeley (Physical Chemistry)
Quantum Dot Corporation, Founder
Research
Biological research has been propelled by the availability of fluorescent proteins that allow dynamic microscopy of living cells. The repertoire of intrinsically fluorescent proteins is substantially less diverse in form and function than the repertoire of chemically synthetized dye molecules, yet genetic targeting provides such a significant advantage that probes 2-10-fold less bright than typical organic dyes are routinely used in fluorescence imaging. Our work is focused on developing tools that couple the best of the synthetic dyes with the advantages of genetic targeting. These novel probes allow unique investigations of cell-biological and biochemical processes fundamental to our understanding of health and diseases.
New tools for single molecule investigations and superresolution imaging
The limits of microscopy can be expanded dramatically by design and use of the right fluorescent dye molecules. Research in this area is focused on enhancing the brightness, stability and activation properties of dye molecules useful with our genetically expressed protein targets. We exploit these probes with sensitive fluorescence imaging to detect biological processes at higher resolution and longer timescales than conventionally achieved in fluorescence microscopy. These tools are applied to study the translation and folding of single molecules by the protein synthesis machinery of eukaryotic cells (the ribosome).
Targeted tools for protein trafficking
The endocytic/exocytic processes are fundamental to a wide range of biological phenomena, including immunity, allergy and synaptic transmission. Utilizing engineered proteins that fold well in the secretory pathway of cells and bind to otherwise weakly fluorescent dye molecules, we have developed a series of fluorescent indicators that are "activated by targeting." These ratiometric dyes enable direct interrogation of the endocytic trafficking process and the protein fate after stimulation by biological ligands or drugs. Trafficking of receptors under the influence of genetic mutations and pharmacologic treatments provides new mechanistic and therapeutic insights into receptor action in these important biological processes. 
Publications
Magenau AJ, Saurabh S, Andreko SK, Telmer CA, Schmidt BF, Waggoner AS, Bruchez MP. Genetically targeted fluorogenic macromolecules for subcellular imaging and cellular perturbation. Biomaterials. 2015 Jul 2;66:1-8.
Bruchez MP. Dark dyes-bright complexes: fluorogenic protein labeling. Curr Opin Chem Biol. 2015 Jun 5;27:18-23
Yan Q, Bruchez MP. Advances in chemical labeling of proteins in living cells. Cell Tissue Res. 2015 Mar 7.
Telmer CA, Verma R, Teng H, Andreko S, Law L, Bruchez MP. Rapid, Specific, No-wash, Far-red Fluorogen Activation in Subcellular Compartments by Targeted Fluorogen Activating Proteins. ACS Chem Biol. 2015 Feb 16.
Yan Q, Schmidt BF, Perkins LA, Naganbabu M, Saurabh S, Andreko SK, Bruchez MP. Near-instant surface-selective fluorogenic protein quantification using sulfonated triarylmethane dyes and fluorogen activating proteins. Org Biomol Chem. 2015 Feb 21;13(7):2078-86.
Wang Y, Telmer CA, Schmidt BF, Franke JD, Ort S, Arndt-Jovin DJ, Bruchez MP. Fluorogen activating protein-affibody probes: modular, no-wash measurement of epidermal growth factor receptors. Bioconjug Chem. 2015 Jan 21;26(1):137-44.
Schwartz SL, Yan Q, Telmer CA, Lidke KA, Bruchez MP, Lidke DS. ACS Chem Biol. 2015 Feb 20;10(2):539-46. ACS Chem Biol. 2015 Feb 20;10(2):539-46.
Saurabh S, Beck LE, Maji S, Baty CJ, Wang Y, Yan Q, Watkins SC, Bruchez MP. Multiplexed modular genetic targeting of quantum dots. ACS Nano. 2014 Nov 25;8(11):11138-46.
Yan Q, Schwartz SL, Maji S, Huang F, Szent-Gyorgyi C, Lidke DS, Lidke KA, Bruchez MP. Localization microscopy using noncovalent fluorogen activation by genetically encoded fluorogen-activating proteins. Chemphyschem. 2014 Mar 17;15(4):687-95.
Lan L, Nakajima S, Wei L, Sun L, Hsieh CL, Sobol RW, Bruchez M, Van Houten B, Yasui A, Levine AS. Novel method for site-specific induction of oxidative DNA damage reveals differences in recruitment of repair proteins to heterochromatin and euchromatin. Nucleic Acids Res. 2014 Feb;42(4):2330-45.
Tan X, Dey SK, Telmer C, Zhang X, Armitage BA, Bruchez MP. Aptamers act as activators for the thrombin mediated-hydrolysis of peptide substrates. Chembiochem. 2014 Jan 24;15(2):205-8.
Bruchez MP. Quantum Dots Find Their Stride in Single Molecule Tracking. Current Opinion in Chemical Biology 2011. In press.
Micheva KD and Bruchez MP. The gain in brain: novel imaging techniques and multiplexed proteomic imaging of brain tissue ultrastructure. Current Opinion in Neurobiology 2011. Published online ahead of print. Doi:10.1016/j.conb.2011.08.004
Mittal R and Bruchez MP. Biotin-4-Fluorescein Based Fluorescence Quenching Assay for Determination of Biotin Binding Capacity of Streptavidin Conjugated Quantum Dots. Bioconjugate Chemistry 2011.
Szent-Gyorgyi C, Schmidt BF, Fitzpatrick, JAJ and Bruchez, MP. Fluorogenic Dyedrons with Multiple Donor Chromophores as Bright Genetically Targeted and Activated Probes. Journal of the American Chemical Society, 2010.
Fisher GW, Adler SA, Fuhrman MH, Waggoner AS, Bruchez MP, and Jarvik JW. Detection and Quantification of β2AR Internalization in Living Cells using FAP-based Biosensors. Journal of Biomolecular Screening 2010.
Fitzpatrick JAJ, Yan Q, Sieber JJ, Dyba M, Schwarz U, Szent-Gyorgyi C, Woolford C, Berget PB, Waggoner AS and Bruchez MP.STED nanoscopy in living cells using Fluorogen Activating Peptides. Bioconjugate Chemistry 2009.
Fitzpatrick JAJ, Andreko SK, Ernst LA, Waggoner AS, Ballou B and Bruchez MP. Long term persistence and spectral blue-shifting of quantum dots in vivo. Nano Letters 2009.
Szent-Gyorgyi C, Schmidt B, Creeger Y, Fisher G, Zakel K, Adler S, Fitzpatrick J, Woolford C, Yan Q, Vasilev K, Berget PB, Bruchez MP, Jarvik J, Waggoner AS. Fluorogen activating proteins: Technology for imaging and assaying cell surface proteins. Nature Biotechnol 2008.