Two-Factor Authentication (2fa)
Effective April 20, all faculty, staff and students must be registered for 2fa (DUO) to access SPARCS.

WHAT DOES THIS MEAN:
If you do not register with 2fa (DUO) for WebLogin, on April 21 you will be denied access to WebLogin protected services when you attempt to login.  You will not be able to access the service until you are registered with 2fa (DUO) for WebLogin. This includes SPARCS.

WHAT YOU NEED TO DO:
Visit the Self-Service Registration page available at http://2fa.cmu.edu/ to register and manage your device(s). If you cannot register using the Self-Service page, contact the Computing Services Help Center at it-help@cmu.edu to request 2fa/DUO registration.

OFF-CAMPUS ACCESS REQUIREMENTS:
Off-campus users will need to continue using the Cisco AnyConnect VPN client to access SPARCS. For more information on the VPN please visit: https://www.cmu.edu/computing/software/all/cisco-anyconnect/index.html
For more information, see the Two-Factor Authentication (2fa) pages at www.cmu.edu/computing/2fa/.

Please direct any questions to the Computing Services Help Center at it-help@cmu.edu or  412-268-4357 (HELP).
The SPARCS Help Desk can be reached via:
SPARCS IACUC Go-Live
Effective April 18, 2016 all IACUC submissions for new and renewing protocols will be handled through the on-line system SPARCS.  More details to be posted soon.
SPARCS Change Management Team Meeting
The Change Management team for SPARCS Proposal and Awards held the first meeting. The meeting presentation [pdf] is available for viewing.
SPARCS Project Update - RAC Meeting
The Research Administrators Council (RAC) was updated on the SPARCS project on Monday, October 12, 2015. The latest news on the SPARCS project is available at: RAC Meeting SPARCS Update [PDF].
SPARCS Proposal & Awards Kickoff Meeting
The SPARCS Team held the Proposal  & Awards Kickoff meeting on September 14, 2015 with the Change Management and Design teams. You can find out the information from the kickoff meeting by reading the Proposal & Awards Kickoff Meeting presentation [PDF].
SPARCS IRB is Live on July 27, 2015
Sponsored Programs and Research Compliance System (SPARCS) is an integrated system that supports Carnegie Mellon University's sponsored program and research compliance functions.  The functionality will encompass Grants & Contracts Management (including proposal development and submission and award and contract negotiations), reporting, Institutional Review Board (IRB), Institution Animal Care and Use Committee (IACUC), and Conflict of Interest (COI) management.  The system supports activities at all CMU research campuses and is utilized by central administration as well as university departments.
SPARCS is a flexible, highly-configurable platform that encourages continuous improvement across the research enterprise and supports automation of front- and back-office research administration processes.  SPARCS provides a single portal for Carnegie Mellon University research personnel to manage their interaction with research administration and compliance staff.
For more information please visit the IRB Website.
SPARCS IRB Roll Out Schedule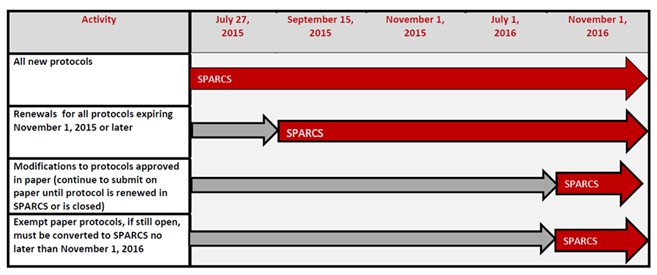 All new human studies submissions must be submited in SPARCS starting on July 27, 2015. All modifications or renewals that expire on November 1, 2015 must be submitted in SPARCS on November 1, 2015. Any studies expiring before November 1, 2015 will continue to use the current paper form. These studies will be submitted into SPARCS starting November 1, 2016.