Why Carnegie Mellon for Science?
---
Access to the best facilities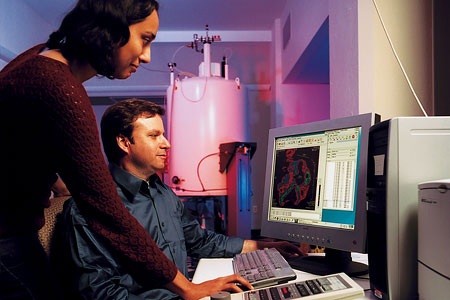 Scientists at the Pittsburgh NMR Center for Biomedical Research, including Eric T. Ahrens and graduate student Mangala Srinivas, are imaging tissues and organs using magnets that are nearly six times stronger than those used in medical magnetic resonance imaging (MRI) machines. Here they examine a mouse embryo image that was generated using the 11.7-Tesla MRI scanner, seen in the background.
Carnegie Mellon is a top-tier research university, and our faculty—and the students who work with them—use state-of-the-art equipment to carry out their research. Plus, our undergraduate science labs are designed to prepare scientists for the 21st century, when thinking and working across traditional disciplinary boundaries is vital to advancing science. The lab setup allows students to investigate real-world scientific problems by integrating a variety of analytical approaches.
---