Medical Resident: Krista Pfaendler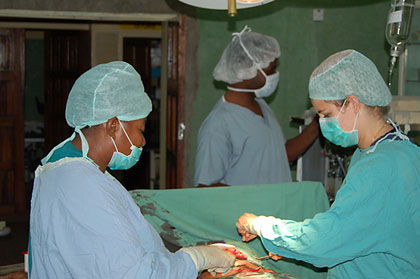 B.S., Biological Sciences, 2002
Occupation: Medical resident in obstetrics and gynecology, the University Hospital, University of Cincinnati
---
Krista Pfaendler helped build a cervical cancer screening and treatment program in Zambia, got off the ground a pediatric HIV/AIDS clinic in Kenya, and worked for the Child Family Health International program in Ecuador-all before she finished medical school.
Pfaendler, who earned her B.S. in Biological Sciences from MCS in 2002, made her first trip to Africa in 2004. The year before, she established the Kenyan Pediatric HIV Project (KPHP) at the University of Pittsburgh, a student group that provides funding for supportive care to HIV-positive children in Kenya. The project culminated in a journey to Africa, where she helped start up the pediatric HIV/AIDS clinic that KPHP supports. Following her return from Kenya, Pfaendler began her third year rotations and was drawn to the field of obstetrics and gynecology. It was also during her third year that she applied for a Fogarty Fellowship, an opportunity that merged her interest in international health and her emerging interest in obstetrics and gynecology. In April 2006, she was named a 2006-2007 Fogarty Fellow for the Centre for Infectious Disease Research in Zambia where she worked on clinical research in cervical cancer screening, prevention and treatment.
Zambia has one of the world's highest incidence rates for cervical cancer, and many of the country's medical personnel aren't trained in performing cervical cancer screening. To overcome this challenge, Pfaendler and her colleagues at the Centre for Infectious Disease Research trained nurses to conduct a cervical cancer screening using visual inspection with acetic acid, a simple and cost effective alternative to the Pap smear. The nurses were also trained to use a digital camera connected to a TV monitor to magnify the cervix and capture an image that can be sent for a consultation and used when discussing treatment options.
After her year as a Fogarty Fellow, Pfaendler stayed on for another year at the clinic, returning to the clinic in Zambia once again in February 2009. Pfaendler is now back in the States, working on her residency in obstetrics and gynecology at The University Hospital, University of Cincinnati.