Fixed Income Derivatives Trader: Dave Korpi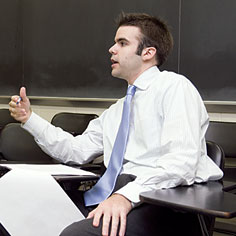 B.S., Computational Finance, 2004
Occupation: Trader on the Interest Rate Swap Desk at Deutsche Bank in New York City
---
When he was in his early twenties, Dave Korpi became one of the primary traders on the Interest Rate Options Desk at Deutsche Bank in New York City. Korpi, who received a bachelor of science in computational finance (BSCF) in 2004, represents a new breed of analyst needed by bank portfolios, insurance companies, pension funds, investment managers, mortgage originators/servicers, corporates, and hedge funds, just to name a few.
Financial analysts like Korpi practice their craft in an ever-changing sea of information, needing to keep track of what is going on in the global economy. He revels in this flux and the mathematical permutations needed to price derivative securities, ie. securities whose values are derived from other products, such as bonds. Some examples of derivative securites are swaps, options, and swaptions (options on swaps).
"It can get complicated," Korpi said matter-of-factly.
Such complex financial instruments are nothing new to Korpi. During an internship after his sophomore year at Carnegie Mellon's Center for Nonlinear Analysis, he analyzed how he should allocate his money between consuming and investing in the market.
"I came up with an equation that would represent, over 30 years, how much money you should spend on fun and entertainment and how much you should invest. I got some interesting results, but it basically said 'save, save, save.'"
After his junior year, Korpi interned at Deutsche Bank in New York City in Interest Rate Derivates trading desk, where he is now one of the primary traders.
"Trading is an interesting job," he said. "If you show that you are ready to take on a lot of risk and you are comfortable managing it and are technically and analytically strong, they will let you take on that risk. Deutsche Bank feels I am ready to take on that responsibility, so it's been given to me."