Space Architecture Student: Kristine Ferrone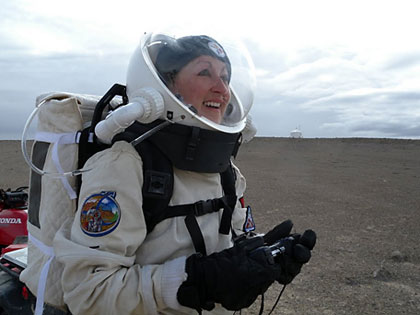 B.S., Physics, 2004
Occupation: Master's degree student in space architecture, the University of Houston
---
Kristine Ferrone learned what to do if she came upon a polar bear, refurbished her space suit and provided laser therapy for many of her crew members. Those three things may not sound like they have anything in common, but they do if you're at the Flashline Mars Arctic Research Station. Ferrone, a 2004 physics graduate, spent a month in the Canadian Arctic on Devon Island, the largest uninhabited island on Earth, experiencing what life might be like on Mars.
According to the Mars Society, which maintains the Flashline Mars Arctic Research Station, crew members take advantage of the Mars-like polar desert of Canada's Devon Island to experiment with techniques for the human exploration of Mars. Ferrone, who earned her MBA from the University of Florida, Gainesville and a master of science in sports medicine from the United States Sports Academy, is working on a master's degree in space architecture at the University of Houston. But in July 2009, Ferrone donned her space suit and trekked around the Arctic-keeping a keen eye out for polar bears. She describes her duties as a crew member in one of her blog entries:  
"As a crew member, I volunteer to be in simulation as an astronaut for one month with 5 other people in Resolute, Nunavut Territory, Canada. Our crew will be going outside on EVAs (spacewalks) in spacesuits almost daily. We will have simulated rovers and will do real excavation and experiments. There is a good chance that another crew member will be bringing along an Unmanned Aerial Vehicle (UAV) for all of us to try out. I am planning to bring a sports medicine experiment to test the effectiveness of a new laser therapy for treatment of stress injuries, sore muscles, bruises, etc. in the isolated space environment. Other crew members...have proposed experiments as well, so it should definitely be an interesting scientific experience."