Systems Engineer: Zalenda Cyrille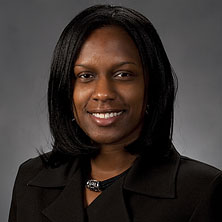 B.S., Mathematical Sciences, 2001
Occupation: Associate Manager, Readiness, Verification, Transition, Operations, Lockheed Martin
---
Zalenda Cyrille, who graduated from the Department of Mathematical Sciences in 2001, doesn't exactly fit the stuffy academic image most people have of mathematicians. Cyrille directs teams of engineers that work on special projects for Lockheed Martin, and she's the co-founder, operations director and financial director of a nonprofit charity in Washington, D.C. There's not a pocket protector in sight.
As a student at Carnegie Mellon, Cyrille interned at the National Security Agency (NSA), where she learned the basics of cryptography and worked on real-world national security problems. After her internship with the NSA, she had recruiters from companies like Lockheed Martin and Raytheon pounding on her door. She went with the offer from Lockheed Martin, which, she says, gave her a blank slate to plan her future. She credits her versatility to the analytical, problem-solving mind that she honed as math major. Lockheed gave Cyrille the opportunity to join a rotational program that allowed her to try out different jobs, which she did before working her way up to a management position. They also helped her earn her master's degree in systems engineering from Virginia Tech.
While working full-time at Lockheed Martin, Cyrille co-founded Inspiring Thoughtful Students by Taking Initiative to Motivate Excellence, otherwise known as IT'S TIME. A nonprofit charity in Washington, D.C., IT'S TIME helps develop young leaders through programs aimed at broadening their perspectives, while teaching them how to invest wisely and communicate effectively. IT'S TIME augments the D.C. public school offerings by adding financial literacy, oratory skills, and career development learning opportunities to give young people the tangible tools they need to excel academically, socially and professionally. Cyrille also is the operations director and financial director of IT'S TIME, and she serves on the Mid-Atlantic Girls Collaborative (MAGiC) leadership team that connects organizations, including IT's TIME, across Maryland, Virginia, and Washington, D.C. committed to increasing the number of young women pursuing science, technology, engineering, and math careers.
It's clear that Cyrille is a positive role model to young women (and men) everywhere and a far cry from the outdated stereotype of mathematicians dating back to days of pocket protectors and horned-rimmed glasses.