Tuesday, September 28, 2010
Rick McCullough Receives Thomas Lord Professorship in Chemistry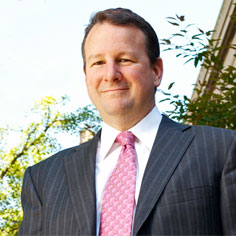 PITTSBURGH-Carnegie Mellon University's Vice President for Research and Professor of Chemistry Rick McCullough has been named the Thomas Lord Professor in Chemistry in recognition of his contributions to the field of chemistry and to the university.
"Throughout his career at CMU, Rick has fostered the growth of strategic research initiatives, strengthened interdisciplinary research at the university and advanced our technology-transfer capability," said Carnegie Mellon President Jared L. Cohon. "Rick has played a large part in creating what he calls CMU's 'innovation ecosystem,' making the university one of the top places for generating technology spin-offs."
McCullough joined the chemistry faculty at CMU's Mellon College of Science in 1990, was named head of the Chemistry Department in 1998 and became dean of the college in 2001. In 2007, McCullough was appointed the university's first vice president for research, a position in which he nurtures interdisciplinary research initiatives and oversees sponsored research and technology commercialization. In addition to his administrative roles, McCullough continues to teach and maintains an active lab.
"In a university, we can measure successes in many different ways - through papers, citations, grants and patents - and Rick has many of these. But perhaps one of the best measures can be found in the success of those that we teach and mentor. More than 60 students have worked in Rick's lab in the last 20 years, and many of them have gone on to become academics and researchers themselves," said Fred Gilman, dean of the Mellon College of Science and the Buhl Professor of Theoretical Physics. 
A leading expert in the area of printable electronics, McCullough discovered and developed regioregular polythiopenes, a material that led to the development of commercial plastic transistors and plastic solar cells. He also discovered the first highly conductive block copolymers, the living synthesis of conductive polymers and transistor paint. McCullough continues to do research on the design and understanding of the structure-property relationships in organic transistors, solar cells and nanoelectronics. 
McCullough also is a founder, board member and chief scientist of Plextronics, Inc., the world leader in developing active layer technology for printed electronic devices, such as organic light-emitting diode displays, polymer solar cells and plastic circuitry. Since its inception in 2002, the Pittsburgh company has grown to employ more than 70 employees and has received numerous honors, including being named a 2008 GoingGreen Top 100 Company and runner-up for The Wall Street Journal Technology Award. 
McCullough earned his bachelor's degree in chemistry from the University of Texas at Dallas and his doctorate in organic chemistry from Johns Hopkins University. He completed a postdoctoral fellowship at Columbia University. 
"It's an honor to receive this professorship, named after a man who embodied many of the things we value at Carnegie Mellon - leadership, entrepreneurship and innovation," McCullough said. "I look forward to carrying on in this tradition, as a teacher, researcher and administrator."
The professorship is named after Thomas Lord, an inventor, businessman and philanthropist.  Lord established funds at a number of institutions in order to foster excellence, technology, and innovation in health care and engineering. In 1996, his estate endowed seven professorships at Carnegie Mellon to honor educators whose work has profoundly impacted the university, his or her academic field and society.
###
About Carnegie Mellon University: Carnegie Mellon (www.cmu.edu) is a private, internationally ranked research university with programs in areas ranging from science, technology and business, to public policy, the humanities and the arts. More than 11,000 students in the university's seven schools and colleges benefit from a small student-to-faculty ratio and an education characterized by its focus on creating and implementing solutions for real problems, interdisciplinary collaboration and innovation. A global university, Carnegie Mellon's main campus in the United States is in Pittsburgh, Pa. It has campuses in California's Silicon Valley and Qatar, and programs in Asia, Australia, Europe and Mexico. The university is in the midst of a $1 billion fundraising campaign, titled "Inspire Innovation: The Campaign for Carnegie Mellon University," which aims to build its endowment, support faculty, students and innovative research, and enhance the physical campus with equipment and facility improvements.