Tuesday, February 2, 2010
Chemistry Major Receives Churchill Scholarship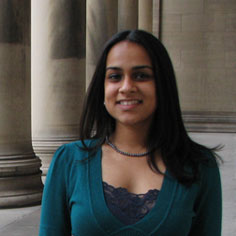 PITTSBURGH - Carnegie Mellon University senior Swati Varshney, a chemistry major and Science and Humanities Scholar, has been selected as one of 14 students nationwide to receive a Churchill Scholarship, which funds a year of postgraduate study at the University of Cambridge in England. The Churchill scholarships are one of the most prestigious awards for studying abroad in the United Kingdom.
The Winston Churchill Foundation of New York City offers the scholarships to outstanding American students to pursue graduate studies in engineering, mathematics or the sciences at Cambridge University's Churchill College. The scholarship pays for a year of tuition, fees and living expenses. At Cambridge, Varshney plans to enroll in the Micro- and Nanotechnology Enterprise Master's Program in which she will learn to navigate between the science of nanotechnology and its commercial enterprise.
"I want to see a research project through - from the science to the commercialization. The program at Cambridge is a perfect fit because I'll have a chance to get inside the business world while learning from some of the world's most famous polymer scientists," Varshney said. 
Varshney experienced this marriage of science and business while working in the laboratory of Carnegie Mellon Vice President of Research Rick McCullough, a polymer chemist who co-founded a spin-off company called Plextronics. During the past three years Varshney has helped to create and optimize conductive and emissive polymers for printable electronics.  
"Swati's outgoing nature and strength as a scientist make her a leader in my group, despite her status as an undergraduate," McCullough said. "There is every indication that she will be a future scientific leader in bio/electronic materials."
Varshney also has interned at Genzyme Corporation, assisting with the research and development of polymeric drugs for the treatment of rare genetic diseases. In addition to excelling in undergraduate research, Varshney is very engaged with the campus community.  She participates in the Women's Leadership Institute and the Chemistry Student Advisory Council, and she writes for the Chemistry Department's newsletter. During her sophomore year she was selected to join the Highland Ambassadors, an exclusive group of students who host important university guests and participate in a wide array of university and alumni events. For the past three years she has been an orientation counselor, interacting with first-year students when they arrive on campus.
Varshney previously earned a Goldwater Scholarship, which is awarded to outstanding students to encourage their pursuit of careers in mathematics, the natural sciences or engineering.
"Swati's doggedness and commitment to excellence has led her to achieve so much at Carnegie Mellon. I expect that those are some of the very same qualities that will lead her to make important scientific and community contributions in the future," said Stephanie Wallach, assistant vice provost for Undergraduate Education and director of the Fellowships and Scholarships Office. 
After her studies in Cambridge, Varshney plans to return to the United States to pursue a Ph.D. in chemistry with a focus on materials science and polymeric biomaterials.
###
About Carnegie Mellon: Carnegie Mellon (www.cmu.edu) is a private, internationally ranked research university with programs in areas ranging from science, technology and business, to public policy, the humanities and the fine arts. More than 11,000 students in the university's seven schools and colleges benefit from a small student-to-faculty ratio and an education characterized by its focus on creating and implementing solutions for real problems, interdisciplinary collaboration and innovation. A global university, Carnegie Mellon's main campus in the United States is in Pittsburgh, Pa. It has campuses in California's Silicon Valley and Qatar, and programs in Asia, Australia and Europe. The university is in the midst of a $1 billion fundraising campaign, titled "Inspire Innovation: The Campaign for Carnegie Mellon University," which aims to build its endowment, support faculty, students and innovative research, and enhance the physical campus with equipment and facility improvements.
By: Amy Pavlak