Message from the Dean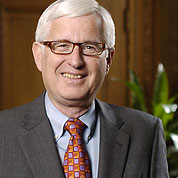 Welcome to the Mellon College of Science (MCS) at Carnegie Mellon University. I encourage you to browse through our Web site to get a taste of the excitement of discovery, innovation and collaborative community that we experience every day in MCS.

Some of the most pressing problems in science today can't be contained in disciplinary boxes. At the Mellon College of Science, our faculty members bring diverse, interdisciplinary perspectives to bear on some of the most important questions in science, and we teach our students to do the same. MCS students think critically about open-ended scientific problems. They do more than learn science—they advance it. More than 70 percent of undergraduates work with faculty on projects in fields such as cosmology and particle physics, green chemistry, health and biotechnology, mathematical finance and nanotechnology.

The MCS faculty is an exceptional group of scientists who not only rise to the top in their fields and create technologies that make a difference in our world, but are also deeply dedicated to undergraduate education. This dedication shines through in their creative teaching methods and devotion to undergraduate research and advising. It is rare to find such strong commitments to excellence in research and undergraduate education in the context of a major research university. We are committed to helping our students gain excellent training that includes a strong foundation in the sciences and the freedom to shape their own degree paths.

We give our students a strong quantitative background that enables them to tackle problems far afield and provides the foundation for lifelong achievement. They are sought after by the top companies and the best graduate schools in the country. MCS students consistently receive prestigious fellowships and awards, and this success is not short-lived. Our alumni are making their marks around the world in fields ranging from the sciences and law to business and medicine.

I hope that you'll peruse our Web site to learn more about our exciting research and educational programs and to get to know our students, faculty and alumni.
Fred Gilman
Dean, Mellon College of Science
Buhl Professor of Theoretical Physics