Krzysztof Matyjaszewski
J. C. Warner University Professor of Natural Sciences and Director, Center for Macromolecular Engineering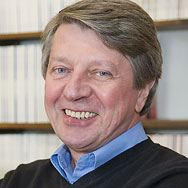 Address:
Department of Chemistry
4400 Fifth Ave.,
Pittsburgh, PA 15213
Phone: (412) 268-3209
Fax: (412) 268-6897
Bio
Experience
Education
Employment
Professional Affiliations
Professional Associations/Society Memberships/Committees
Pacific Polymer Federation: President (2013)
American Chemical Society (ACS): Fellow (2010)
IUPAC: Fellow (2002-); Corresponding Member of IUPAC Commission on Polymer Nomenclature
ACS  Polym. Chem. Div.: Fellow (2010) & Member since 1986; Past Chair of the Polym. Curric. Dev. Award (1987-2001); Member of Program Comm., and Chair, Intern. Committee,
ACS Polym. Mat. Sci. Eng. Div.: Fellow (2001) & Member since 1986
Awards & Honors
2014         National Institute of Materials Science (Japan) Award
2014         Fellow, National Academy of Inventors
2014         Distinguished Service Award, ACS Polymer Division
2013         Honorary Degree (Doctorate Honoris Causa) Universite P. & M. Curie, Sorbonne, Paris, France 

2013

         Inaugural AkzoNobel North American Science Award (ACS)

2013

         Honorary Degree (Doctorate Honoris Causa) Pusan National University, South Korea

2013

         Madison Marshall Award (ACS, Alabama Section)
2012         Dannie-Heineman Prize, Goettingen Academy of Sciences
2012         Maria Sklodowska-Curie Medal, Polish Chemical Society
2012         Foreign Member of Russian Academy of Sciences
2012         Marie Sklodowska-Curie Science Medal, Pilsudski Institute of America
2012         Honorary Fellow of Chinese Chemical Society
2011         Hermann F. Mark Award (ACS)
2011         Carnegie Science Award in Advanced Materials (Prnewswire and Post-gazette)
2010         Gutenberg Award, University of Mainz, Germany
2010         Polymer Chemistry Division, Fellow (ACS)
2010         Honorary Degree (Doctorate Honoris Causa) l'Institut Polytechnique, Toulouse, France
2008         Honorary Degree (Doctorate Honoris Causa) University of Athens, Greece
2007         Hermann F. Mark Senior Scholar Award (ACS)
2007         Honorary Degree (Doctorate Honoris Causa) Lodz Polytechnic, Poland
2006         Member of the National Academy of Engineering
2006         Honorary Degree (Doctorate Honoris Causa) Russian Academy of Sciences
2005         Macro Group Medal (United Kingdom)
2005         Foreign Member of Polish Academy of Sciences
2005         Chair - Gordon Research Conference , Polymer East
2004         Prize of Foundation for Polish Science
2002         Polymer Chemistry Award (ACS)
2002         Honorary Degree (Doctorate Honoris Causa) University of Ghent, Belgium
2001         Pittsburgh Award (ACS)
1999         Humboldt Award for Senior US Scientists
1998         Elf Chair of French Academy of Sciences
1989         Award of Presidential Young Investigator (NSF)
1981         Award of Polish Academy of Sciences
1980         Award of Polish Chemical Society
1974         Award of the Scientific Secretary of Polish Academy of Sciences
Expertise
Macromolecular Engineering, preparation and processing of precisely controlled polymers to reach targeted materials properties. Correlation of macromolecular structure with macroscopic properties
Synthesis of well defined macromolecules via living and controlled polymerizations. Radical, cationic, and anionic polymerization of alkenes and heterocyclics. Block, graft and gradient copolymers. Control of chain microstructure and topology. Functional polymers and telechelics
Preparation of well defined polymers and hybrids for optoelectronic, biomedical and special applications.
Inorganic and organometallic polymers
Catalysis. Homogeneous and heterogeneous catalysis
Research Impact
Over 100 postdoctoral fellows and 100 graduate students have been members of the CMU research group.
55 international companies from Europe, Japan, South Africa and North America have been members of CRP and ATRP Consortia at CMU.
16 licenses signed for ATRP technology. Commercial production of materials by ATRP has been started in Japan, USA and Europe in 2004.

870

 peer-reviewed publications have been cited 65,000 times; the first paper on ATRP (J. Am. Chem. Soc. 1995) and first review (Chem. Rev. 2001) were cited together over 8,000

 

times; h-index: 131. The first two ATRP patents were cited over 300 times in US patents.
50 issued US patents, 36 pending US patent applications; 147 original and derived international patents.