Sipei Li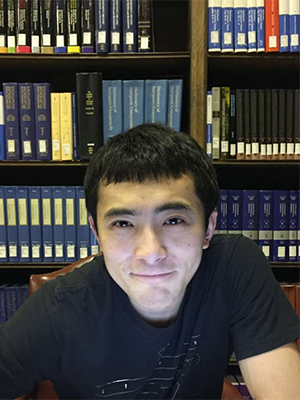 Address:
Carnegie Mellon University
4400 Fifth Avenue
Mellon Institute
Pittsburgh, PA 15213
Office: MI-810
Phone: (412) 268-3208
Education
PhD, Chemistry
September 2014 – July 2019 (expected)
Carnegie Mellon University   
M.Sc., Chemistry
September 2011 - Jun 2014
Zhejiang University
B.Eng., MSE
September 2007 - Jun 2011
Zhejiang University of Technology
Research
Polymer bio-conjugates
Rechargeable Polymer lithium batteries
Publications
[1]  S. Li, J. Han, A. Tang and C. Gao, "Water-Soluble and Clickable Segmented Hyperbranched Polymers for Multifunctionalization and Novel Architecture Construction," Macromolecules, 2012, 45, 4966. (Joint 1st author)
[2]  S. Li, J. Han and C. Gao, "High-Density and Hetero-Functional Group Engineering of Segmented Hyperbranched Polymers via Click Chemistry," Polym. Chem., 2013, 4, 1774. (Front cover article)
[3]  S. Li and C. Gao, "Dendritic Molecular Brushes: Synthesis via Sequential RAFT Polymerization and Cage Effect for Fluorophores," Polym. Chem., 2013, 4, 4450.
[4]  J. Han, Y. Zheng, S. Zheng, S. Li, T. Hu, A. Tang, C. Gao, "Water Soluble Octa-Functionalized POSS: All-Click Chemistry Synthesis and Efficient Host–Guest Encapsulation," Chem. Commun., 2014, 50, 8712.
[5]  J. Han, Y. Zheng, B. Zhao, S. Li, Y. Zhang, C. Gao, "Sequentially Hetero-functional, Topological Polymers by Step-growth Thiol-yne Approach," Sci. Rep., 2014, 4, 4387.
[6]  S. Li, Y. Zheng, Z. Zhu, C. Gao, "Hyperbranched Polymers: Advances from Synthesis to Applications," Chem. Soc. Rev., 2015, 44, 4091. (Joint 1st author)
[7]  H. He, S. Averick, P. Mandal, H. Ding, S. Li, J. Gelb, N. Kotwal, A. Merkle, S. Lister, K. Matyjaszewski, "HMultifunctional Hydrogels with Reversible 3D Ordered Macroporous Structures," Adv. Sci., 2015, 2, 1500069.
Honors and Awards (selected)
2013 Chu Ko Cheng Scholarship, Zhejiang University
2012 Best Young Researcher, APME 2013, ACS
2009 National Scholarship, Chinese Ministry of Education