Navigating Inspiration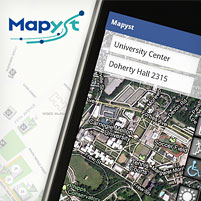 Early in the fall of 2010, four Carnegie Mellon University freshmen sat over lunch complaining about wandering an unfamiliar campus. By the end of the meal they'd decided to build an 'indoor navigation app' — Mapyst — to solve the problem.

Utilizing data from floorplans, Google Maps and GPS, the team mapped and timed every campus nook and cranny. Consequently, Mapyst can now provide the quickest route to your destination and unlike mere GPS, guide you right to the door, not just the building. It can customize your route, estimate travel time, locate nearby printers and restrooms and even provide a location's hours of operation.

It was the availability of a Small Undergraduate Research Grant (SURG) that got the team started.

"Once we learned that we could get a SURG grant to fund the project, we jumped at the opportunity," said Brian DeVincentis (E'14), a member of the group that also included Brandon Kase (CS'14), Manish Burman (E'14) and Evan Shapiro (CS'15).

SURG grants provide seed funding for undergraduates from all disciplines to pursue research on topics of individual interest.

Mapyst subsequently won three awards at CMU's Meeting of the Minds symposium, an annual presentation of campus-wide undergraduate research: a 1st Place Yahoo! Undergraduate Research Award, a 3rd Place Johnson & Johnson Undergraduate Research Award and an IBM Undergraduate "Smarter Planet" Award.

The ingenious app, available for web and Android devices, was recently highlighted in a NYTimes.com article and the web version has been used over 1,000 times.

"We were good friends and thought it would be fun and technically challenging to create the app," explained DeVincentis of the interdisciplinary team.

"A few of us were more interested in algorithms (such as the algorithm to find the shortest route between two points on campus) while the others were more interested in user interface design and graphics. Having both of these skills was very useful."

DeVincentis and the others credit CMU with helping them to accomplish their goal.

"Our computer science classes helped tremendously and the SURG grant allowed us to do user testing and purchase web hosting," said DeVincentis.

He added, "Our advisor, Professor David Kosbie, kept us on schedule and worked with us in solving the problems we encountered."

Now that development is done, there's still a bit more work to do.

"We want to continue increasing awareness of the app so that the Carnegie Mellon community can benefit from it."
Related Links: Mapyst | New York Times article | Undergraduate Research Office | Campus Map
---