Palau - Palau Community College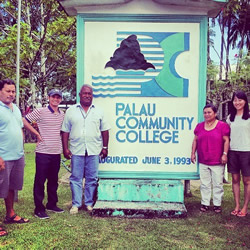 Fachry Oemar (Heinz-MISM)
Fachry Rozy Oemar is from Indonesia, and is in his final year studying in the Master of Information Systems Management program at Carnegie Mellon University.
Fachry partnered with Palau Community College (PCC) to improve their existing network by implementing a reliable and manageable network topology utilizing a Hierarchical Network Backbone Design. He also researched viable solutions for a more reliable and accessible email system. Google Apps for Education was chosen, configured, and and PCC personnel were successfully migrated to it.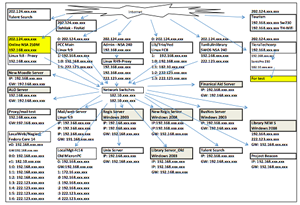 Fachry wrote, "This project not only allowed me to dedicate and exercise my knowledge and experiences in Information Technology, but it also allowed me to interactively learn from my client. I worked as a team with my client and together we productively found the most suitable and sustainable solution for Palau Community College. While the solution may seem very simple, it answered most of their problems and helped with their daily operational activities. In the end, the 'small' thing is the 'big' thing for my client and I am very grateful to be part of this process."
View Fachry's experience in Palau by visiting his Tumblr.
---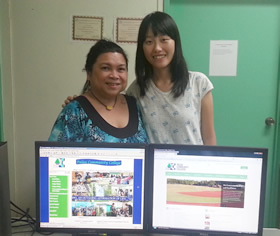 Palau - Palau Community College
Cheng Ding (Heinz-MISM)
Cheng Ding is a second year Master of Information Systems Management student in the Heinz College. She is originally from Nanjing, China and attended University of Notre Dame for her Bachelor's degree in Finance.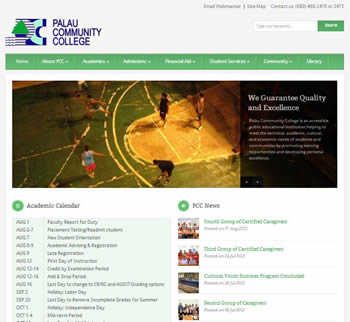 With interests in art and design, Cheng engaged in a consulting partnership with Palau Community College to create a modern new website. The PCC website now supports enhanced functionalities such as course search and allows for distributed content management across the many departments within the organization. As a result of the consulting experience, Cheng experienced huge improvements in her communication and interpersonal skills.
Read more about Cheng's experience on Tumblr.
---
Philippines - Our Lady of Lourdes Hospital
Rintaro Sato (Dietrich-IS)
& Radford Shiozaki (Heinz Adelaide - MSIT)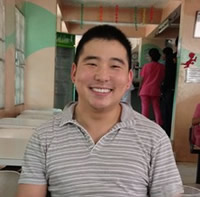 Rintaro Sato (right) is a undergraduate Senior studying Information Systems and International Relations and Politics. He was born in Japan and raised in Hawaii.
Radford Shiozaki (left) is in his second year of Carnegie Mellon's Master's of Science in Information Technology program based in Adelaide, Australia.
Radford and Rintaro spent their summer in Daet, Phillipines as Student Consultants with Our Lady of Lourdes Hospital. They implemented an open source Electronic Medical Record system and customized it using AGILE methods to fit the needs of hospital. Apart from gaining insight into Filipino culture, Rintaro stated that he "learned that taking time to make sure the end users understand the new system without any assistance is crucial for the sustainability of the system."
Visit Rintaro's Tumblr and Radford's Tumblr for more about their experience in the Philippines
---
Rwanda - Agahozo Shalom Youth Village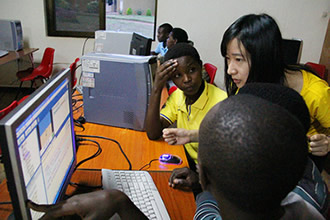 Qiulu Gong (Heinz-Global MISM)
& Terence Lim (Dietrich-IS)
Qiulu (right) is a second-year student in the Global Masters of Information Systems Management program in the Heinz College.
Terence (below) graduated from Carnegie Mellon with a BS in Information Systems and Minor in Business Administration in August 2013. He is currently pursuing a MS in Computing Science at Imperial College London.
Terence and Qiulu partnered with the Agahozo-Shalom Youth Village (ASYV) in Rwanda. During their consulting partnership, they built an integrated Ruby on Rails Student Information System.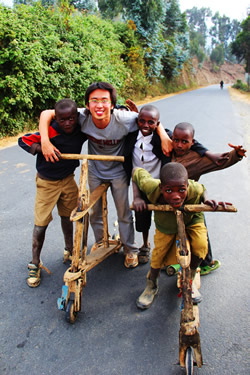 This provided the staff with a stable and user-friendly system to analyze data and generate reports. The student consultants also surveyed the existing infrastructure in order to improve and upgrade their networks as well as schedule automatic backups of the servers.
They also worked with Nicole Ifill, a CMU & TCinGC alumna (2012), to organize a Hackathon Competition in Alice to encourage independent learning of programming, to raise IT awareness, and to provide ASYV students further resources to explore IT.
Terence writes: "Having grown up in a developed country my whole life, I have never had the opportunity to experience how life was like living or working in a developing country. Moreover, despite all my IT knowledge that I've learnt since high school, I was unable to apply them in a meaningful way that could change or impact the world. Technology Consulting in the Global Community is not only the perfect opportunity for me to apply what I've learnt in the classroom to the real world, it also allows me to make a significant impact in the lives of others."
View Terence's Tumblr and Quilu's Tumblr.
---
Rwanda - Gashora Girls Academy
Fangzheng Tian (Heinz-Global MISM)
& Yunlu Cao (Heinz-Global MISM)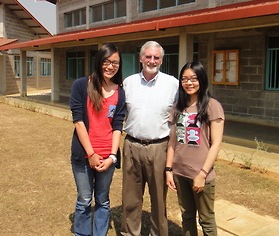 Fangzheng Tian (right) and Yunlu Cao (left) are both Heinz Global-MISM students from China. They worked with Head of School Peter Thorp (center) at the Gashora Girls Academy of Science and Technology in Rwanda.
They assisted the staff at the Gashora Girls Academy to improve their technology infrastructure. They improved the processing speed of all laptops by evaluating their status and reformatting them to use Deep Freeze. They also collaborated on the implementation of FET Free Time-Tabling Software to aid the Academy in generating class schedules. To ensure the sustainability of their solution, they trained the Dean of Academics on how to use the system. Finally, they enabled the use of Easy Tomato to monitor the network bandwidth.
View FangZheng's Tumblr and Yunlu's Tumblr for more about their experience in Rwanda.
---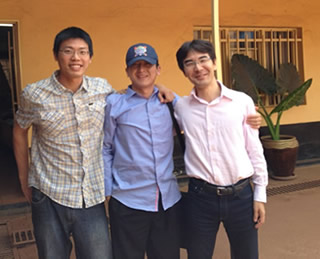 Rwanda - Horizon Construction
Rempei Iwata (Heinz-MISM)
& Sheng-Lun Chen (Heinz-Global MISM)
Rempei (right, and below on truck) is a Masters of Information Systems Management student from Tokyo, Japan as well as an employee of The Bank of Tokyo-Mitsubishi UFJ. He is interested in the African economy because he believes that within the next decade, Africa will follow in the footsteps of China and India and be more included in the world market.
Sheng-Lun Chen (left) is a 2nd year student in the Global-MISM program.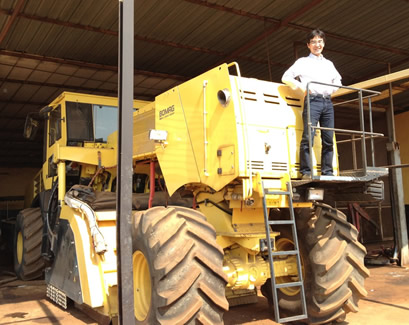 This summer, Rempei and Sheng-Lun spent 10 weeks in Rwanda consulting with Horizon Construction. Rempei and Sheng-Lun Chen worked with their partners to improve the process of equipment management within Horizon Construction's Engineering Equipment Department. In order to increase efficiency of equipment deployment and of monthly revenue reporting, they designed an Equipment Management System that meets the needs of the organization. Furthermore, they built a Unified Monthly Report Format to improve the quality of project management within the company.
View Rempei's Tumblr and Sheng-Lun's Tumblr for more about their experience in Rwanda