Welcome letter from Susan G. Polansky, Head, Department of Modern Languages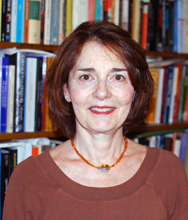 Thank you for your interest in Carnegie Mellon University and the Department of Modern Languages (ML). At all levels of our program, students study language and gain awareness of diverse cultures through an approach that gives explicit attention to both content and skill-building. We provide students a wide range of opportunities to study languages and cultures, to enhance their knowledge and appreciation of traditions, customs, and issues while building their proficiency in understanding, speaking, reading, and writing. Through studying the languages and worlds of others, our students gain a valuable international perspective that enhances their life personally and professionally in our multicultural society.
Carnegie Mellon students' dedication to language study is noteworthy. In a survey of the Class of 2012, approximately 50 percent of graduating seniors had taken at least one language course during their undergraduate years here. We do not have a language requirement in place, although students can elect language to fulfill certain distribution requirements. Our statistics compare favorably with a national scene where there is much room for improvement, where, according to statistics published by the Modern Language Association in 2010, roughly 8.6 percent of undergraduate students in the United States study a foreign language at all during their college careers.
At introductory, intermediate, and 300 levels, we offer Arabic, Chinese, French, German, Italian, Japanese, Russian, and Spanish. Beyond the 300 level, students may pursue a major in ML or complement their work in another field by choosing to double major or minor in a language. Majors and minors are available in Chinese Studies, French and Francophone Studies, German Studies, Hispanic Studies, and Japanese Studies, as well as Russian Studies. ML also collaborates with other departments of the Dietrich College of Humanities and Social Sciences to offer interdisciplinary majors and minors in Global Studies and Linguistics.
Our course offerings above intermediate level are rich and varied. Students may explore, for example, literary and cultural production from many points of view, cognitive studies related to language learning, research training with individual professors, and they may participate in community outreach programs such as language tutoring. Our students have shared that their language skills and intercultural expertise have increased their professional opportunities in this global marketplace of the 21st century.
Outside the classroom, there are numerous activities to promote language practice, for example, at language tables, coffee hours, and through visits with native speakers. ML also sponsors an annual international feature film series, run by the Modern Languages Student Advisory Council. The Modern Language Resource Center contains a wealth of multi-media materials that provide contextualized support for our different languages and technical assistance for our on-line courses in Chinese, French, and Spanish. Study abroad is strongly encouraged and supported by opportunities for ML and H&SS scholarship grants. International experience abroad adds an important dimension to our undergraduate offerings through summer, semester- or year-long programs in various parts of the world.
Our faculty members are all highly motivated and enthusiastically devoted to the mission of teaching. The department prides itself on offering relatively small class sizes, which enables us to devote considerable individual attention to student needs.
In addition, we offer two graduate programs: an intensive one-year master's program in Applied Second Language Acquisition that prepares students for a career in teaching, and a doctoral program in Applied Linguistics with a specialization in Second Language Acquisition. For us, this means that we focus our research primarily on the learning of languages other than English as the second language. Our graduates find ready employment in universities across the country or in other settings where they use their language education training and expertise.
We welcome your contact with the Department of Modern Languages. Please explore our website and let us know if we can provide you with additional information.
Cordially,



Susan G. Polansky
Head, Department of Modern Languages