Start-ups: GigaPan Systems
GigaPan Systems was established in 2008 as a commercial spin-off of a successful collaboration between the researchers at NASA and Carnegie Mellon University that developed the breakthrough GigaPan technology for creating high-resolution panoramic images. GigaPan Systems was founded to bring this powerful, high-resolution imaging capability to a broad audience.
The GigaPan System allows experienced and novice photographers to create high-resolution panorama images more easily than ever before and the resulting GigaPan images offer viewers a new, unique perspective on the world. The GigaPan System is the first solution that offers everything needed to take high-resolution panoramic images in a single system: the robotic GigaPan Imager attachment for most digital cameras; the GigaPan Stitcher software that automatically combines the thousands of images taken into a single image, and the GigaPan Viewer on the GigaPan.org site that enables the unique mega-high resolution viewing experience.
The GigaPan System was originally used as part of a cultural exchange program, Global Connection Project, a collaboration of scientists from Carnegie Mellon University, Google Inc., and the National Geographic Society which aims to help connect communities and peoples around the globe through images. Many of these images are available for viewing online with the unique GigaPan viewer at the GigaPan sharing community, www.gigapan.org. The GigaPan System makes it easy and fun for both experienced and novice photographers to get the bigger picture and share these high resolution images with others. GigaPan images are fun to share with family and friends near or far. For students and researchers, GigaPan images are a great way to present high-impact, visual information. GigaPan images also have tremendous power for business. For example in tourism and real estate, companies can use beautiful GigaPan images of their locations to allow customers to explore them online. GigaPan images are already used by the following:
SportsIllustrated.com
Golf.com
Google Earth
To learn more about GigaPan Systems
To learn more about the original GigaPan Project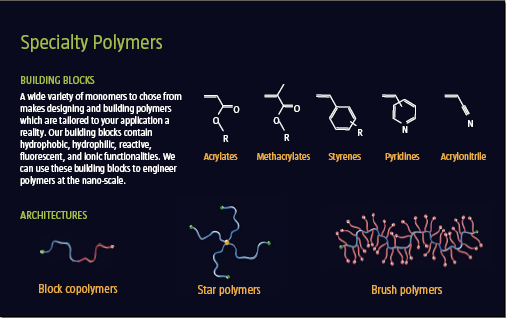 Start-ups: ATRP Solutions

Developed at Carnegie Mellon by Krzysztof Matyjaszewski in 1995, Atom Transfer Radical Polymerization (ATRP) is among the most effective and most commonly used methods of controlled radical polymerization (CRP). It allows scientists to easily form polymers by piecing together their component parts in a controlled fashion. Assembling polymers in such a manner has allowed scientists to create a wide range of polymers with highly specific, tailored functionalities. This technology also allows for the production of "smart" materials that can respond to altered environments, such as changes in pressure, acidity, light exposure or other variables.
Polymers created using ATRP have been used for coatings, adhesives, lubricants, cosmetics and electronics and are currently under investigation for use in the medical and environmental fields. ATRP relies on a specialized copper catalyst to form a polymer chain. In the early stages of ATRP's development, high levels of copper catalyst were required to maintain the process. This problem persisted even after more active catalysts were developed. As a result, the materials manufactured using ATRP contained high levels of copper.
In 2006, Matyjaszewski and colleagues introduced a green approach to ATRP that incorporates environmentally benign reducing agents, like vitamin C and sugars, to regenerate the active form of the catalyst. The reducing agents chemically lessen the amount of copper catalyst needed for the reactions by as much as 1,000 times, significantly reducing the output of potentially hazardous materials employed in ATRP and used for purification.
Spun out of Carnegie Mellon in 2008, ATRP Solutions helps customers to increase the efficiency of research and development by designing and providing specialty polymers that meet their needs. ATRP Solutions recognizes the importance of well-defined polymeric materials for improving the performance of commercial products in the areas of personal care and cosmetics, detergents and surfactants, paints, pigments, coatings and biocompatible materials. As the world leader in atom transfer radical polymerization, ATRP's solutions mission is to enable businesses to capitalize on this rapidly emerging technology. ATRP Solutions manufactures custom materials and shares knowledge to help in making tomorrow's commercial products.
To learn more about ATRP Solutions
Emerging Technologies - Braille Writing Tutor
More than 90% of the world's 161 million blind and/or visually impaired people are living in developing countries. Despite the importance of literacy to employment, social well-being, and health, the literacy rate of this population is estimated at under 3%.  This research project is designed to develop assistive technology to address this critical problem. The project's scope was to design, implement, and test an adaptive Braille writing tutor for the Mathru School for the Blind in Bangalore, India.
The resulting invention teaches blind children in third world countries read and write Braille in much less time and with higher learning rates. A robust, low-power Braille writing tutor – consisting of a digital stylus that interfaces to a computer, PDA, or SimPuter – uses text-to-speech software to speak sentences to the student. As the student writes each letter on the stylus, it provides immediate audio feedback by repeating the written letters and words and correcting mistakes.
Sponsors for the program include the V-Unit Program, TechBridge World and a Carnegie Mellon University-University of Pittsburgh-National Science Foundation IGERT Program in Assistive Technology
About TechBridgeWorld: TechBridge World innovates and implements technology solutions to meet sustainable development needs around the world. Through strong collaborations with partners in developing communities, we explore and enhance the role of technology globally, focusing on two main principles: sharing expertise to create innovative and locally suitable solutions, and empowerment of indigenous populations to create sustainable solutions. Through these efforts TechBridgeWorld creates technology accessible and relevant to all.
To learn more about the Braille Writing Tutor